The Commitments
(1991)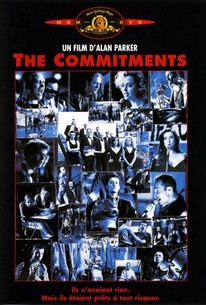 Movie Info
"The Irish are the blacks of Europe, Dubliners are the blacks of Ireland, and the North Siders are the blacks of Dublin ... so say it loud -- I'm black and I'm proud!" Or so Jimmy Rabbitte (Robert Arkins) tells his slightly puzzled friends as he tries to assemble a rhythm & blues show band in a working class community in Dublin in Alan Parker's film The Commitments. Jimmy is a would-be music business wheeler and dealer, and he's decided what Dublin needs is a top-shelf soul band. However, top-shelf soul musicians are hard to find in Dublin, so he has to make do with what he can find. However, after a long round of auditions, Jimmy makes two inspired discoveries: Deco (Andrew Strong), an abrasive and alcoholic streetcar conductor who nevertheless has a voice like the risen ghost of Otis Redding, and Joey "The Lips" Fagan (Johnny Murphy), a horn player who knows soul music backwards and forwards and claims to have played with everyone from Wilson Pickett to Elvis Presley. Before long, the band -- called the Commitments -- is packing them in at local clubs. But do they have what it takes to make the big time? Based on the novel by Roddy Doyle, who also co-wrote the screenplay, The Commitments is sparked by fine performances by its young cast and enthusiastic performances of a number of '60s soul classics; the cast, who play their own instruments, reassembled the band for a concert tour after the film became a hit.
News & Interviews for The Commitments
Critic Reviews for The Commitments
Audience Reviews for The Commitments
Spencer Macklin
Super Reviewer
"We skipped the light fandango turned cartwheels 'cross the floor. I was feeling kinda seasick but the crowd called out for more" I'm still in awe by how clever was the use of that enigmatic line, it not only comes from one of my favourite songs, but works as a dignified compendium of a short-lived but magical trainwreck that the characters, and the public, can only watch passing by with a smile. Quotable dialogue, riotous moments and genuine musical passion throughout. A gem once voted, deservedly, as the best irish film of all time.
Pierluigi Puccini
Super Reviewer
½
A story documenting the rise and fall of the band The Commitments. With enjoyable vocals and those well known songs, this film makes for an easy watching tongue in cheek piece. In a seperate issue, I can't help thinking this discredits the film ONCE ever so slightly I had thought their performances were really good, I hadn't known Glen Hansard had already appeared in this film.
Lady D'arbanville
Super Reviewer
The Commitments Quotes
| | |
| --- | --- |
| Failed Drug Buyer: | ...I saw the queue down the street, I thought you was selling drugs... |
| Failed Drug Buyer: | I saw the queue down the street, I thought you was selling drugs... |
| | |
| --- | --- |
| Jimmy Rabbitte: | "The Irish are the blacks of Europe, Dubliners are the blacks of Ireland, and the North Siders are the blacks of Dublin ... so say it loud -- I'm black and I'm proud!" |
| Jimmy Rabbitte: | The Irish are the blacks of Europe, Dubliners are the blacks of Ireland, and the North Siders are the blacks of Dublin ... so say it loud -- I'm black and I'm proud! |
| | |
| --- | --- |
| Jimmy Rabbitte: | Jimmey: He says God sent him Mr Rabbitt: On a fucking Suzuki? |
| Jimmy Rabbitte: | He says God sent him |
| Mr. Rabbitte: | On a fucking Suzuki? |