Deceived
(1991)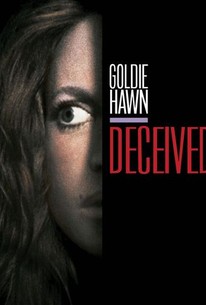 Movie Info
Goldie Hawn delivers a surprisingly understated performance (allowing the audience to shift their laughter from the usually comic Hawn to the unbelievable storyline) in the unsuccessful thriller Deceived. Hawn plays Adrienne Saunders, a successful art restorer who is married to Jack (John Heard), a devoted husband who is also an expert in the antiques business. Married for six years and parents of a charming 5-year-old daughter Mary (Ashley Peldon), the Saunders appear to have everything going for them. But after a series of odd occurrences that even an idiot would notice, Adrienne finally comes the conclusion that her husband is not the man she thought he was when she married him. After Jack tells Mary that he was in Boston but Adrienne's friend tells her she saw him in New York, the mysterious clues begin piling up and are too numerous to ignore: there's a call from a department store concerning some sexy lingerie that Jack purchased; a friend is found murdered after checking on the authenticity of an Egyptian necklace; and there are indications that Jack was involved with a scheme to steal artifacts from a museum. Adrienne is finally convinced that something is fishy about her husband when he mysteriously dies is an auto wreck, and she discovers that Jack has been using the name of a man who had died 16 years earlier. Adrienne proceeds to polish her magnifying glass and conducts some detective work on her own to find out who her husband really was. This is when the danger really begins.
Critic Reviews for Deceived
Audience Reviews for Deceived
A successful, attractive New Yorker Adrienne (Goldie Hawn) meets the man who seems to be Mr. Right (Jack played by John Heard) and their marriage is everything she hoped it would be, until he suddenly and mysteriously dies. As more evidence starts to arise about Jack's life before and during his marriage to Adrienne, it becomes obvious that he's somehow not the person that she's married to and he may have been involved in criminal activity or having an affair with someone else. It had great promise but the little twists and turns seems contrived as Goldie Hawn goes about unraveling this complicated mystery of her husband's identity. Goldie Hawn is always good to watch and I enjoyed John Heard is at his deliciously evil best.
This underrated Goldie Hawn thriller is hot stuff. She's the woman with the perfect marriage who uncovers disturbing details about her husband after he dies. All expectations to the contrary, Hawn actually acts here, emitting barely any of her girlish giggles. Though it's never clear why she doesn't just go to the police when things turn nasty, the tension builds nicely throughout, with a superbly tense finale that avoids most of the cliché traps other recent thrillers fall into.
Dean McKenna
Super Reviewer
Great thriller. Goldie finds out after her husband's funeral that her husband had a double life.
Candy Rose
Super Reviewer
Deceived Quotes
There are no approved quotes yet for this movie.