The Star
(1952)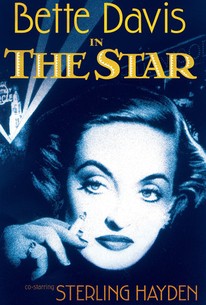 Movie Info
An actress who once knew the heights of fame is forced to confronts the depths of defeat in this show business drama. Margaret Elliot (Bette Davis) was once one of Hollywood's great stars, but as she edges into her 50's, both her career and her life have reached an unfortunate crossroads. Margaret hasn't worked for several years, her marriage has fallen apart, her former husband has custody of her daughter Gretchen (Natalie Wood), and she's running short of money. Margaret's agent Harry Stone (Warner Anderson) can't get her a part, and isn't willing to lend her the money to pay her bills. When they learn that Margaret is all but penniless, her sister (Fay Baker) and brother-in-law (David Alpert) turn their back on her, and Margaret's landlady (Katherine Warren) is threatening to evict her. Depressed and desperate, Margaret goes on a drinking binge, and ends up in jail on a drunk driving charge. No one comes to her aid but Jim Johannson (Sterling Hayden), an former actor who worked with Margaret years ago and has long been in love with her. Jim urges Margaret to leave Hollywood behind, and offers to care for her if she'll have him, but when Margaret's pleas to Harry finally result in an audition with producer Joe Morrison (Minor Watson), she holds on to the desperate hope she may have one more chance at regaining her stardom. Bette Davis's performance in The Star earned her an Academy Award nomination for Best Actress, but she lost to Shirley Booth for Come Back, Little Sheba -- a role that had been first offered to Davis.
Critic Reviews for The Star
Audience Reviews for The Star
½
Bette Davis tries to recapture former glory but ultimately comes up short in this comeback film. Underwhelming.
John Ballantine
Super Reviewer
½
Bette Davis's 10th Oscar nomination for Best Actress came in 1952 for "The Star," when, incidentally, Joan Crawford was also nominated (for "Sudden Fear"). Both lost to Shirley Booth, for "Come Back, Little Sheba." "The Star" is not a great film by any stretch, but it's a good one. It tells the story of a movie star terrified of losing her stardom after turning 40. Melodramas like this helped build a myth that women could never work in Hollywood after 40. This was just a melodrama, but the country started believing it -- even though there was plenty of evidence to the contrary. In a strange way, people the world over started equating the character in this movie with Davis herself, believing the melodrama. Melodramas like "The Star" were so good that much of the country (and even the world) took them for reality. Weirdly, I think "The Star" helped bring Davis's screen career to an end because audiences couldn't differentiate between Davis and the character she was playing! It may not be a great film, but it's a superb melodrama -- so good that I think a large segment of the American public couldn't shake it from their consciousness. Davis and other middle-aged actresses (such as Crawford) would never be able to shake the association of themselves with the lead character in "The Star." This movie helped build a mythos that is still powerfully alive. One could say that "The Star," a silly melodrama, killed the careers of middle-aged actresses for decades because it so effectively presented women of a certain age as over the hill. A classic case of American culture confusing movies with reality. Life imitating movies.
William Dunmyer
Super Reviewer
The Star Quotes
| | |
| --- | --- |
| Margaret Elliot: | C'mon Oscar, let's you and me get drunk |
| Margaret Elliot: | C'mon Oscar, let's you and me get drunk. |