The Prize
(1963)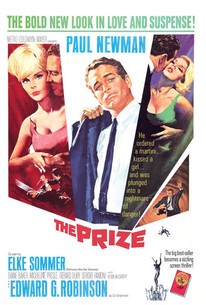 Movie Info
A group of potential recipients of the Nobel Prize gather in Stockholm in hopes of getting the coveted and profitable award. Writer Andrew Craig (Paul Newman) is the disinterested mystery author who believe something is not quite right about Dr. Stratman (Edward G. Robinson). He has been replaced with a twin brother in a Communist plot to kidnap the celebrated doctor. Craig is tailed by two agents who are on to the scheme, and temporarily takes refuge in a nudist colony. He appeals to the secretary of the Swedish Foreign Office (Elke Sommer) and the police. Both camps believe his story to be too ridiculous to be taken seriously. Craig goes it alone, eventually finding the real doctor a prisoner on a ship bound for Russia. The two return to the awards ceremony to claim their prizes and foil the fiendish international kidnapping. The release of the film drew protests from the Swedish government, who felt it was degrading to the ceremony. The story was taken from the novel by Irving Wallace.
Critic Reviews for The Prize
Audience Reviews for The Prize
½
Few are better at the rascally hero role than Paul Newman, here playing a jaded Nobel Prize novelist who has turned to drink, women, and writing dimestore detective stories. He travels to Stockholm merely to collect the $50,000 prize and meets fellow laureate physicist Edward G. Robinson, a German defector before WW II. The next day, his latent curiosity is piqued when he finds the scientist has strangely changed his behavior patterns and seems a couple inches shorter... Entertaining Hitchcockian story that never turns too serious delivers some funny lines and provides engaging subplots and side characters.
Doctor Strangeblog
Super Reviewer
Excellent thriller with a great sense of humor
The Prize Quotes
There are no approved quotes yet for this movie.