Platinum Blonde
(1931)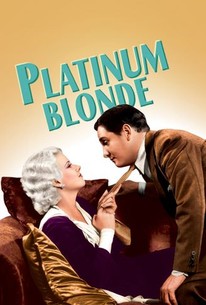 Movie Info
Jean Harlow may have been under contract to MGM, but it was at lowly Columbia Pictures that she played the title role in the aptly titled Platinum Blonde. Director Frank Capra always claimed that he and screenwriter Robert Riskin "stole" the plot from The Front Page, but beyond their mutual "newspaper" backgrounds there is no real resemblance between the two films. Robert Williams, a comic actor who died in 1932, plays a wisecracking, easily distracted reporter who manages to insult wealthy socialite Harlow (playing an uncharacteristically unsympathetic character). As retaliation, the girl inveigles Williams into marrying her, which not only shocks his news-hound buddies but sends his erstwhile sweetheart, sob sister Loretta Young, into an emotional tailspin -- though she won't let him know that. Williams tries to remain his old down-to-earth self, but soon his head has been turned 180 degrees by Harlow and her society chums, whereupon he gives up journalism to become an artsy-fartsy playwright. Finally brought to his senses, Williams gives Harlow the ozone and returns to his old job -- and to Young, who has never stopped loving the big lug. Many of the elements prevalent in Platinum Blonde were echoed in Capra's later films, notably the hero's preoccupation with such trivial pursuit as a pocket-sized puzzle and his tendency to settle arguments with stuffed shirts by punching them out.
Critic Reviews for Platinum Blonde
Audience Reviews for Platinum Blonde
An early Capra effort complete with the Depression-era "rich people are jerks" subtext. A down-to-earth regular guy marries above his station, much to the chagrin of everyone involved. Will he become a gentleman dandy or stay true to his everyman roots? Surprisingly Jean Harlow and Loretta Young are cast vice versa and it's disconcerting as hell. But the film belongs tragically to its star, Robert Williams, who is quite good but unfortunately died on the brink of stardom. Not one of the greats, but its doable.
Kevin M. Williams
Super Reviewer
½
There are some great screwball comedies of the 30's and 40's, and this is a terrific early film, directed by the father of feelgood, Frank Capra. Starring such screen greats as Jean Harlow and Loretta Young, the main character of Stew Smith (Robert Williams) is both a cautionary tale and a goofball, which fits with Will Hays' production code, but also is flagrantly absurd. It's a cute little piece of cinema, laden with compromises towards censorship.
Spencer S.
Super Reviewer
It has been quite awhile since I watched an old movie and I've forgotten how delightful they can be. I've seen plenty of old screwballs and this isn't the best of the best, but it is funny and witty. And Williams is quite hilarious! Almost Grant-esque. Predictable story, but it made me laugh!
Jennifer D
Super Reviewer
Platinum Blonde Quotes
There are no approved quotes yet for this movie.