Drácula (Dracula, Spanish Version)
(1931)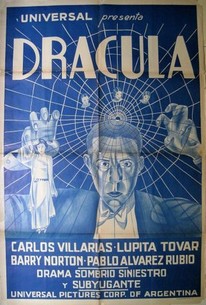 Drácula (Dracula, Spanish Version) Photos
Movie Info
The grisly doings of Bram Stoker's vampire count are featured here as he ventures from his native Transylvania to England in search of new blood. Made in tandem with the Todd Browning classic, this foreign-market version with a different cast and director is frequently superior to the English-language one.
News & Interviews for Drácula (Dracula, Spanish Version)
Critic Reviews for Drácula (Dracula, Spanish Version)
Audience Reviews for Drácula (Dracula, Spanish Version)
½
Very interesting seeing the same sets and most of the same scenes from the Bela Lugosi Dracula of the same year given extra life in this Spanish language version. Universal had the English speaking cast and crew shooting on the sets in the day and the Spanish speaking cast and crew shooting over night, with the Spanish version to be released in their Latin market at the same time as the American version was released. An anecdote shared on a special feature doc was that the Hispanic crew would arrive early to see the dailies that the Americans had shot and then try to do better. I believe it in most cases. The script, costumes, blocking, and framing of shots were not exactly the same as in the more well known version. When compared next to the classic version it is a mixed bag with some elements coming across stronger and some weaker. Other people here on Flixster have stated it before, however I'll repeat that Carlos Villarias as Count Dracula is not as strong of a performer. Though I didn't realize until I saw this version with a very toothy Dracula that neither Villarias or Lugosi wear prominent fangs. Lupita Tovar as Eva instead of Mina wears flimsier outfits and gives a good performance, except that the scene when she tries to bite her fiancee does not seem as lustful as the Americans were able to pull off. Norton as Juan Harker, which makes me giggle, seemed more concerned for Eva and physically willing to confront the Count. Similarly Arozamena (Van Helsing) portrays a bulkier, slightly younger, and more physically able force against Dracula's evil. Pablo Alvarez Rubio as Renfield overall gives a more nuanced and believable portrayal of madness. Renfield has surely been bitten by Dracula. But he is not fully a vampire. He must do Dracula's will and needs to drink blood, but is too squeamish to feed on humans. Also several of the additional scenes in this version of the script, which I do not regret add length to the story, involve Renfield being fearful about his soul, knowing he has done evil, and not being ready to die. Harker, Seward, and Van Helsing confront Renfield a couple extra times as he repeatedly breaks out of his cell in the sanitarium and Dracula pays extra visits to Eva to further her transformation into one of his brides. The effects, particularly with Dracula's coffin opening on its own with smoke rising out of it and then Dracula appearing out of the smoke, instead of cut-aways were noticeably improved. I'll go along with the opinion that this version is better, though only by half a star, than the iconic Tod Browning version and that Lugosi should have appeared in this production.
Byron Brubaker
Super Reviewer
Although the cinematography is more atmospheric than the Tod Browning version, it's obvious that Carlos Villarias is no Bela Lugosi.
Randy Tippy
Super Reviewer
As said before there are a lot of Dracula Movies out there from Blockbusters to B ones. Its the old same thing, just tiny bits difference sometimes.
Drácula (Dracula, Spanish Version) Quotes
There are no approved quotes yet for this movie.