The Black Cat
(1934)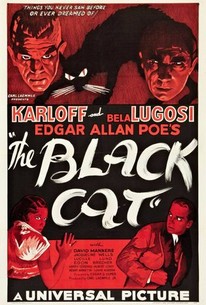 TOMATOMETER
AUDIENCE SCORE
Critic Consensus: Making the most of its Karloff-Lugosi star pairing and loads of creepy atmosphere, The Black Cat is an early classic in the Universal monster movie library.
Movie Info
The first cinematic teaming of horror greats Boris Karloff and Bela Lugosi is a bizarre, haunting, and relentlessly eerie film that was surprisingly morbid and perverse for its time. Peter (David Manners) and Joan Allison (Julie Bishop) are honeymooning in Budapest when they meet mysterious scientist Dr. Vitus Verdegast (Lugosi) aboard a train. When the trio's bus from the train station gets into an accident, the young couple accompanies Verdegast to the castle of the spectral Hjalmar Poelzig (Karloff), an architect and the leader of a Satanic cult. Poelzig's treachery in World War I caused the deaths of thousands of his and Verdegast's countrymen, as well as Verdegast's own internment as a prisoner of war. While Verdegast was detained, Poelzig married first his wife, who later died, then his daughter. Now Verdegast has come back for retribution, and the honeymooners are trapped in the two men's horrifying battle of wits. Corpses preserved in glass cases, frightening Satanic rituals, and a climactic confrontation in which one of the characters is skinned alive add to the film's pervasive sense of evil and doom, along with the stark black-and-white photography by John Mescall that makes Poelzig's futuristic mountaintop mansion even more disturbing. Karloff and Lugosi are both excellent, with Lugosi doing a rare turn as a good guy, albeit one who has gone off the rails. Having little to do with the Edgar Allan Poe story of the same name, The Black Cat has grown in stature over the years and is now widely regarded as the masterpiece of director Edgar G. Ulmer and one of the finest horror films ever made. ~ Don Kaye, Rovi
News & Interviews for The Black Cat
Critic Reviews for The Black Cat
Audience Reviews for The Black Cat
½
"The Black Cat" was the first film to pair the legendary stars Boris Karloff and Bela Lugosi, and at just 65 minutes in length, it packs quite a bit of oddness into it's short running time. A young couple (David Manners and Julie Bishop) are honeymooning in Hungary (of all places). Traveling by train, they share a compartment with Dr. Vitus Werdegast (Lugosi), a psychiatrist on his way to visit an old friend. This old friend, Hjalmar Poelzig (Karloff) is an architect who has built a futuristic mansion on top of an old battlefield/graveyard. Poelzig betrayed Dr. Werdegast during WWI, and Werdegast spent several years in a prison there (he was betrayed possibly so Poelzig could steal his wife away), and now returning, Werdegast swears revenge. Throw some satanism into the works and there you have it. Karloff's Hjalmar Poelzig is quite a unique and sinister character, and Lugosi's doctor, with his bizarre cat phobia (whenever he sees a cat, he must either try to murder it or throw his hands over his eyes in terror) is equally odd. While the credits might acknowledge Edgar Allen Poe's original story, there is little here to resemble it. What we have is a strange and well, unique contribution to the horror genre of the 1930s.
Devon Bott
Super Reviewer
A very interesting old horror movie with two of the best old horror movie stars. A really cool movie.
½
A young couple find themselves caught between the machinations of a doctor bent on revenge (Bela Lugosi) and a mad engineer (Boris Karloff) in the latter's Art Deco mansion, built on the graves of the soldiers he sold out in a World War I battle. The story's a little ragged (with a black cat popping up at random moments to terrify Lugosi), but Edward G. Ulmer's direction, the geometric sets, and the atmosphere of elegant perversity inexorably draw you in to the Expressionist nightmare.
The Black Cat Quotes
There are no approved quotes yet for this movie.