Murders in the Rue Morgue
(1932)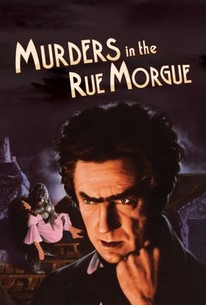 Murders in the Rue Morgue Photos
Movie Info
Having missed the opportunity to direct Frankenstein for Universal, Robert Florey was offered Murders in the Rue Morgue as a consolation, whereupon he transformed a pedestrian property into a minor classic. Owing more to Cabinet of Dr. Caligari than to Edgar Allen Poe, the film stars Bela Lugosi as Doctor Mirakle (accent on the second syllable), a carnival sideshow entertainer who doubles as a mad scientist. Kidnapping prostitutes off the Paris streets, Mirakle endeavors to mix their blood with that of his pet gorilla. His experiments will forever be doomed to failure, however, until he is able to obtain the blood of a virgin -- and that's where Camille L'Espanye (Sidney Fox) comes into the picture. When Mirakle's monkey kidnaps Camille and murders her mother, suspicion immediately falls upon the girl's sweetheart, starving artist Pierre Dupin (Leon Waycoff, later known as Leon Ames). But by using the deductive skills displayed in the original story by Poe's master detective C. Auguste Dupin, our hero not only proves his innocence, but rescues the helpless heroine from Mirakle's clutches.
News & Interviews for Murders in the Rue Morgue
Critic Reviews for Murders in the Rue Morgue
Audience Reviews for Murders in the Rue Morgue
The title makes this movie sound like something exciting, but it's not. Lugosi plays a mad scientist who has a circus act where he exhibits an ape who can "talk". The ape cannot talk, he just pretends that he knows what it's saying. I'm sure the audience was asking for their money back after that. He has some crazy idea about how people are descended from apes and he wants to make people more like apes, so he kidnaps girls and murders them when his experiments don't work out. The story is stupid, the characters are stupid, I didn't care for this movie at all, I don't know why they included it in the universal monsters collection.
Bela Lugosi stars as "Dr. Mirakle," a carny scientist with a trained ape and a penchant for conducting medical experiments on prostitutes, in this loose but effective adaptation of Poe's short story. It's fascinating to consider that the villain here is a foreigner with a unibrow who preaches evolution, and the "good people" he terrorizes are closeminded and casually racist. Also interesting for the bestiality subtext, and the fact that this gorilla-abducts-white-woman tale predates KING KONG.
You have heard me talk about this over and over again. Bela Lugosi is one of the greatest horror actors, period. My mom is the one who really got me into watching horror movies and she would talk about his performances over and over again. So he kind of holds a dear place in my heart. This movie was released one year after Dracula. It actually introduces Bela as "Dracula Himself" which is pretty funny to me. He never got out from under that role, hell he was Dracula. So in this movie Bela is playing Dr. Mirakle, a mad scientist in France who does experiments on his monkey. You see he gets these girls, right, and he injects them with monkey blood to try and get a little play date for his killer ape. I don't really know if the doctor is a real doctor or just a lunatic. If you have read this book, and you know if the movie is a good adaptation of it. I would like to hear from you, I was not familiar with the movie before this. Oh one of the funniest things I thought is that the Ape's name is Eric. That was too funny, it is such a contemporary name. Another thing about this movie, this is one of those killer ape films. I don't know why they thought that ape's were so scary in the 30's. There are like tons of horror movies that feature Monkeys and Apes. I have already reviewed a couple flops where the killer is an ape. I don't really like that antagonist. The movie came out during the weird period between silent films and the film code. There were alot of movies that came out during this time and they are considered "Pre-Code" films. These movies had harsh violence, sex/nudity, drug use, and various other things that we see all of the time now. For this movie we have a prostitute and some really brutal beatings and murders. For its time this movie was like an Ultra-Violent weird Horror film. By today's standards, it is considerably tame. I am going to give this movie a 6 of 10. There are some really interesting expressionist type shots that the movie makes. Probably due to Karl Freund being behind the camera, his cinematography was pure quality. Also you have a pretty safe bet with Carl Laemmle producing. He was the king of early day horror cinema. In the words of one of my favorite podcasts: "Watch More F'ing Film" S!D Edgar Allen Poe is somewhere in this movie can you find him, well almost him. Movie is set in Paris The movie was a flop when it first came out, but is now considered to be pretty awesome.
Brandon Siddall
Super Reviewer
Murders in the Rue Morgue Quotes
There are no approved quotes yet for this movie.