Jet Pilot
(1957)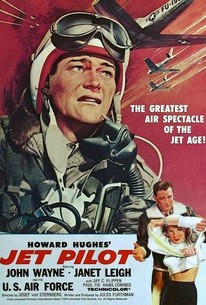 Movie Info
If Jet Pilot seems hopelessly out of date today, imagine how filmgoers in 1957 reacted when this relic from 1949 was taken off the shelf. Many, many years in the making due to the maniacal tinkering by producer Howard Hughes (who reportedly lost $4 million on it - a massive sum back then), the film was deemed unreleasable upon completion; only when Universal-International took over distribution of a handful of RKO Radio productions did it finally see the light of day. John Wayne stars as an air force colonel stationed in an Alaskan outpost only 40 miles or so from the Soviet Union. Wayne is put in charge of Russian jet pilot Janet Leigh, who claims that she wants to defect. Actually, Leigh is a Communist spy, but thanks to Wayne's affectionate attentions she is won over to the side of Democracy. Thus it is that Leigh rescues the Duke when he is kidnapped and nearly brainwashed by her Commie comrades. Jet Pilot was eventually bought back from U-I by Hughes for his personal collection; not only did he buy into the propagandistic plotline, but he was also enthralled by the aerial scenes, some of which were staged by legendary test pilot Chuck Yeager. The 1949 production date for a number of sequences explains not only why so many of the actors look young for 1957, but the existence of several supporting cast members who had died in the interim (such as Jack Overman and Richard Rober).
Critic Reviews for Jet Pilot
Audience Reviews for Jet Pilot
John Wayne plays an Air Force Col. Jim Shannon who gets a surprise landing at his base by none other Janet Leigh (who was not overly convincing as a Russian Soviet Pilot because not once does she even give the least hint of a Russian accent.) The air force wants to get information out of her and give John Wayne the job. She proves to be a tough nut to crack so they decide to deport her but the Duke has fallen for her and knowing that they cannot deport the wife of an American Citizen, he marries her only to find out after they are married she is a spy and it's all just a Russian plot to get information to take back to the mother land.
½
The legendary talents of producer Howard Hughes, director Josef von Sternberg and actor John Wayne combine to bring a thrilling and often humorous Cold War adventure to the screen, accentuated by outstanding aerial photography and thunderous action sequences. The special effects in this film are quite convincing in spite of its age. Of course, the US Air Force helped everywhere needed to make the picture seem real. Wayne and Janet Leigh are especially good together as are the usual cast of colorful characters who help pad out the storyline.
Dean McKenna
Super Reviewer
Jet Pilot Quotes
There are no approved quotes yet for this movie.