Beethoven
(1992)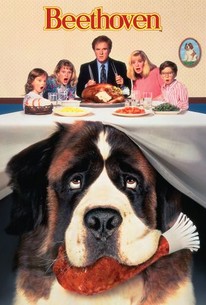 Movie Info
Feeling that something is lacking in their lives, the family of suburbanite Charles Grodin adopts a stray St. Bernard puppy. The cute lite beast grows up to be the less-than-cute Beethoven, a sloppy, slobbery, oversized and extremely destructive animal. Beethoven also brings with him a lot of hidden baggage in the form of evil veterinarian Dean Jones, who'll stop at nothing to steal Beethoven for the purposes of his insidious lab experiment. Several sequels followed, beginning with 1993 Beethoven's Second.
Critic Reviews for Beethoven
Audience Reviews for Beethoven
Looking at the films I enjoyed when I was a kid, this one always seemed to be a favorite among countless others, and now as an adult, I really don't know why I enjoyed this film. I guess it was what I thought, back then at least, a good film that was simply wonderful. Unfortunately, Beethoven for me, is one of those films that hasn't stood the test of time and doesn't really necessitate another viewing like so many other good family films that I enjoyed when I was a kid, because well looking back, this film is pretty stupid. The film has a poor plot, and despite the decent cast, the film suffers from a poor script, and director Brian Levant doesn't do anything interesting with the film. The film is flawed, and pretty pointless. I disliked it and thought it was one of the weaker family films to come out during my childhood. The film should be avoided and doesn't offer anything that will appeal to the viewer. The kids are annoying, the rest of the cast is wasted and Beethoven is simply a poorly made film that really doesn't belong in the same category as other family oriented classics. This is a film not worth watching and really is one of the worst family films that I've seen in my childhood. The film doesn't work, and is simply a waste of time to watch. There are so many other great family films than this. Beethoven is a forgettable waste of time that is pointless entertainment. I hated this film, and you'd be better off watching films like Casper or The Sandlot. Beethoven hasn't stood the test of time, and the plot not entertaining, and the cast is simply wasted on-screen. A pointless mess of a family film.
I love all of the Beethovens.
Bethany Murphy
Super Reviewer
Just another story of kids wanting to take in a stray dog, the kind of thing you'd see on an episode of some family sitcom. It's funny and cute for kids to watch, but other than that, it's not a great movie, it's not too bad either, so I'll just say it's okay.
Beethoven Quotes
There are no approved quotes yet for this movie.