Tacones Lejanos (High Heels)
(1991)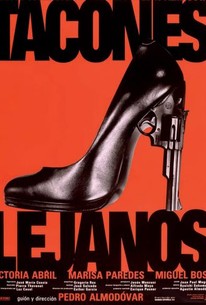 Tacones Lejanos (High Heels) Photos
Movie Info
Written and directed by Spanish filmmaker Pedro Almódovar, Tacones Lejanos is a murder mystery centering on flamboyant actress Becky del Paramo (Marisa Paredes) and her daughter Rebecca (Victoria Abril), a television anchorwoman. After being estranged for 15 years, Becky re-enters Rebecca's life when she comes to perform a concert. Rebecca, she finds, is now married to one of Becky's ex-lovers, Manuel (Feodor Atkine). As the mother and daughter begin making up for lost time, Manuel is suddenly murdered at his home. Unfortunately, which of the ladies is responsible for the homicide remains unclear, even after one of them confesses. Released in the U.S. under the title High Heels, Tacones Lejanos was nominated for several Goya Awards as well as the Best Foreign Language Film at the 1992 Golden Globes.
Critic Reviews for Tacones Lejanos (High Heels)
Audience Reviews for Tacones Lejanos (High Heels)
½
Almodovar always starts slow; but then as the story strands come together you can't stop watching.
Marcus Woolcott
Super Reviewer
½
One's enjoyment of this will depend on how the spectator is able to accept the director's melodramatic sensibilities (the live TV confession is a major standout) and to see Almodóvar winking at us through all the extreme plot twists. Douglas Sirk would have been proud.
Matheus Carvalho
Super Reviewer
Almodovar melodrama about a selfish singing mother retuning to Spain and her TV newscaster daughter after leaving for Mexico 15 years ago and never looking back. In those 15 years, the daughter has all grown up, keeping busy by marrying her mum's ex-lover and going to shows to watch Letal, drag artist, impersonate her mother. The plot is silly, but everyone throws themslves into it with great enthusiasm, and it looks so colourful and stylish and pretty and Spanish. Lovely.
Tacones Lejanos (High Heels) Quotes
There are no approved quotes yet for this movie.