The Cutting Edge
(1992)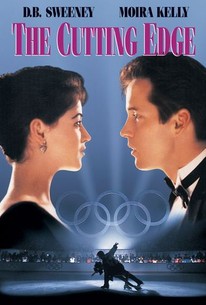 TOMATOMETER
AUDIENCE SCORE
Critic Consensus: Part contrived romance, part hackneyed sports drama, The Cutting Edge shows how difficult it can be to figure skate through cheese.
Movie Info
Can a rough and tumble hockey player and a snooty ice dancer find love and a gold medal at the same time? That's the burning (or more appropriately freezing) question in this romantic drama. Kate Moseley (Moira Kelly) is a world-class figure skater training for the Olympics; she has genuine talent, but years of being spoiled by her wealthy family have made her all but impossible to work with. Doug Dorsey (D.B. Sweeney) is a hockey player with drive, skill, and a full complement of arrogance; his team is also on the fast track to the Olympics. Unfortunately, an eye injury suffered during a game affects Doug's peripheral vision enough to put him on the bench for the rest of the season. At the same time, Kate's colossal ego scares off yet another skating partner, and her coach, Anton (Roy Dotrice), needs to find a replacement as soon as possible. Desperate to stay in Olympic competition, Doug agrees to try working as Kate's partner, even though he has a hockey player's macho contempt for figure skating. Needless to say, the first few practices between Kate and Doug do not go well, but in time they learn to work together and become a pair to be reckoned with both on and off the ice. The Cutting Edge was released within a few months of the 1992 Winter Olympic Games.
News & Interviews for The Cutting Edge
Critic Reviews for The Cutting Edge
Audience Reviews for The Cutting Edge
½
Somewhat a cult classic, and more than anything a vapid romantic comedy, The Cutting Edge is a slightly mindless film about a figure skater and a hockey player who need each other in order to succeed and go to the 1992 Olympics in pairs figure skating. I shouldn't say it's completely mindless, because though the plot is low and meandering, and the actual film itself borders on boring in originality, the characters aren't too bad. Their banter is probably the most enticing aspect of the film, and the reason many people love this enough to grant it another two movies in the late two-thousands. The characters themselves aren't very bright or intuitive and they follow the standard calibration for a romantic comedy: she's rich and privileged, he's blue collar rogue. It's very simple and neat as we expect, but there are some things that really bother me about this film, to an extent. Well, I found that formula without wanting, but the skating routines in this film are lazy. The nineties didn't yield the best slow motion, CGI, or freeze frames, and certainly didn't have music that doesn't make us cringe today. The routines are shown mostly from the skates, and leave much to the imagination They pan to the actors' faces, and then it's back to the skates. It's not that big a deal, but the final scene that clenches their victory is based on a singular move they pull off, and we as the audience don't even see it because they're focused on their faces. I saw a lot of the spoof Blades of Glory in this, especially in the last scene, and weirdly I think that film did a lot better in showcasing the actual skill and beauty of figure skating compared to this, which was far more focused on this partnership. Don't get me wrong about the actors, as Moira Kelly already enchanted me in Chaplin, and D.B. Sweeney is likable though pretending to be rough and tough whilst wearing spandex. There's nothing new or passionate about this, but you'll generally like it if you're into ice skating or want to lie around and watch a goofy romantic comedy.
Spencer S.
Super Reviewer
Not entirely worth your time.
Tim Salmons
Super Reviewer
Toe pick! Toe this! 2 stars!
Curtis Lilly
Super Reviewer
The Cutting Edge Quotes
| | |
| --- | --- |
| Kate: | What is this? Last stages of Ukranian Alchohol Psychosis? |
| | |
| --- | --- |
| Kate: | What do you do? Shower once a week? |
| Doug: | Is that an invitation? |
| | |
| --- | --- |
| Doug Dorsey: | Don't say we aren't right for each other, the way I see it is… We aren't right for anyone else. |
| Doug Dorsey: | Don't say we aren't right for each other. The way I see it is, we aren't right for anyone else. |