Gladiator
(1992)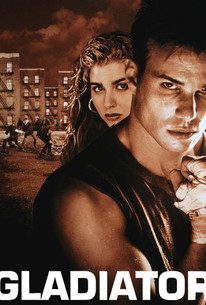 Movie Info
Gladiator is the kind of boxing movie that goes that extra mile -- a self-loathing boxing saga that relishes in bare-knuckled sucker punches, illegal eye-rubs, and gentlemen boxers who obey the Marquis of Queensbury rules by drop-kicking opponents when the are not only down but unconscious. James Marshall plays Tommy Riley, a Windy City high school student conned into participating in the illegal underground boxing arenas of the South Side of Chicago. In high school, Tommy was a prize boxer, and this skill comes in handy when his Father (John Heard) runs up a large gambling debt. When a sleazy boxing manager (Robert Loggia) spots Tommy defending himself during recess, he offers him quick money to box. Tommy, although he hates the sport, readily agrees, thinking his winnings will help his father pay off his debts. He quickly comes under the thumb of unscrupulous boxing promoter Horn (Brian Dennehy), who is involved in fight-fixing and dirty fighting. Manipulating the odds and exploiting his boxers make Horn rich and more venal. In the rancid environment, Tommy befriends another fighter, Lincoln (Cuba Gooding Jr.), a black fighter who sees fighting as his way out of poverty. Inevitably, Horn arranges for the two friends to duke it out in the ring together.
News & Interviews for Gladiator
Critic Reviews for Gladiator
Audience Reviews for Gladiator
How did I miss this 1992 gem?! Very impressive performances from Cuba Gooding Jr, James Marshall, and Brian Dennehy. An underrated gem that explores the underground world of professional street boxing. It was well done, and I really enjoyed it! This movie may be among one of the highest quality unknown films that I have come across...
Cynthia S.
Super Reviewer
Tommy Riley (James Marshall) goes to a different school and is immediately bullied around and threatened by several of the school's students. After getting in a street fight, Pappy Jack (Robert Loggia) notices Tommy's strong and fierce punch and invites him to be a boxer. Tommy was formerly a boxing champion before coming to this school and his record is undefeated. This town is full of gangs and violence, and one day Tommy helps a black boxer named Lincoln (Cuba Gooding, Jr.), and they then have a good friendship. Tommy is now making good money being a boxer and he has some friends, but something just doesn't seem right. "Gladiator" is an exciting boxing and drama movie. What makes it so great is not only the exciting fights, but the great acting by everybody in the movie, mainly James Marshall, Cuba Gooding, Jr., and Tommy's promoter, Jimmy Horn (Brian Dennehy). If you like exciting boxing movies that have a plot or just great movies in general, I recommend getting "Gladiator." NOTE: That was my Amazon review from the year 2000. The most underrated boxing film I know of, even though it's not THAT "Gladiator" film that everyone knows.
Jason Owens
Super Reviewer
I really liked this film, it was a good film that got better, and in the end failed to make me sad, good ending!
Alexander Wilson
Super Reviewer
Gladiator Quotes
There are no approved quotes yet for this movie.