Kid Galahad
(1937)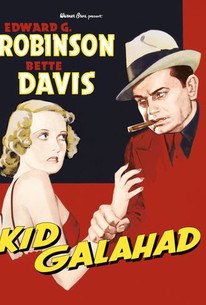 Movie Info
Fight manager Nick Donati (Edward G. Robinson) has just lost his best fighter to crooked promoter Turkey Morgan (Humphrey Bogart). During a party at Donati's apartment, a bellhop (Wayne Morris) kayos Morgan's boxer, who has insulted the honor of Donati's girlfriend, Louise "Fluff" Phillips (Bette Davis). Sensing a good thing when he sees it, Donati takes the bellhop under his wing, promoting the erstwhile pugilist as Kid Galahad. Morris is shipped to Donati's farm for training, where he falls in love with Donati's sheltered kid sister, Marie (Jane Bryan). Angered at this, Donati sets up Kid Galahad for a fall, ordering him to take a dive in an upcoming bout and betting his bankroll on Morgan's boy. Kid Galahad takes a terrific beating until, at the urging of Fluff and Marie, he abruptly changes his ring strategy. When Galahad wins, Morgan, feeling he's been double-crossed by Donati, shoots the latter. Morgan manages to fatally wound Morgan before expiring himself; as he breathes his last, he gives his belated blessing to Galahad and Marie's romance. To avoid confusion with Elvis Presley's 1962 remake of Kid Galahad, the earlier film was retitled The Battling Bellhop for TV. ~ Hal Erickson, Rovi
Critic Reviews for Kid Galahad
All Critics (5) | Fresh (5) | Rotten (0)
Straight, tight action drama with good fight scenes. Edward G. Robinson and Bette Davis ought to team together again. Wayne Morris, the fighter, does a nice, simple job.
The popular film became a boxing classic for the 1930s.
Solid Warners boxing yarn - you can't go wrong with Eddie G. and Bette.
February 10, 2006 | Rating: 4/5
Audience Reviews for Kid Galahad
Kid Galahad is just an okay boxing movie when you consider the talent involved. Edward G. Robinson seems to be just kind of... there and Humphrey Bogart merely turns in a canned Murderer's Row performance. Bette Davis plays a forgettable role but considering she's never looked better, I didn't mind. Kid Galahad definitely doesn't fall into the essential viewing category but if you're on an Edward G or Bogie kick that just won't die, its not a bad way to chase the dragon...
Michael Gildea
Super Reviewer
½
This movie brings the words quaint and sentimental to mind. This movie combines elements of romance and sports drama in a nice way, but it was too nice I think, it could have been more realistic. In other words more conflict. Good, but it could be better.
despite bogie, edward g and bette davis, the film is just ok. the usual boxing cliches...anyway it's gotta be better than the musical remake with elvis :p
Stella Dallas
Super Reviewer
Kid Galahad Quotes
There are no approved quotes yet for this movie.