Cool World
(1992)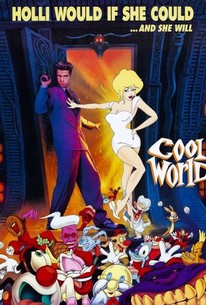 TOMATOMETER
AUDIENCE SCORE
Critic Consensus: Cool World throws a small handful of visual sparks, but they aren't enough to distract from the screenplay's thin characters and scattered plot.
Movie Info
Ralph Bakshi's coupling of animated cartoons with live action comes across as little more than a ham-handed attempt at re-creating Who Framed Roger Rabbit? When a cartoonist (Gabriel Byrne) is accidentally pulled into his animated world, he finds himself being seduced by one of his sexy characters named Holli Would (Kim Basinger). It seems that Miss Would desires to be human, and there's only one way to attain that status. A detective (Brad Pitt) tries to stop the proceedings.
News & Interviews for Cool World
Critic Reviews for Cool World
Audience Reviews for Cool World
Without any of the charm or iconic imagery of its obvious predecessor "Who Framed Roger Rabbit," this film is ugly and dark in all the wrong ways. The director originally wanted something darker, akin to Frank Miller's "Sin City," but was stonewalled into creating a more family friendly venture. What emerged was not only; not family friendly, but was disgusting and gross. The characters are supposed to be outliers who are dangerous and violent, but they're just idiotic stereotypes. The animation in this is horrible, bordering on amateur. The characters engage in all the insane antics of a Warner Bros. cartoon without the charm of a Bugs Bunny or Daffy Duck. The plot doesn't connect very well, and often relies on stupid logic. The ending especially doesn't make much sense, and the logic to get to it boggles the mind. The main drag is the reliance on three dimensional actors in a two dimensional space, which the set designers get around by creating two dimensional sets that often make it obvious that they don't possess the technology to meld these two mediums. It's just a tragically dull film that tries to make animation into an art, but instead makes you gag.
Spencer S.
Super Reviewer
½
At first glance this just comes across as a more adult version of 'Roger Rabbit' and you'd be right basically. The plot is almost the same kind of thing involving a toon (they are called doodles) trying to get into the real world and then turn it into another toon world, pretty basic idea. Bakshi tries again with animation but fails to capture anything of greatness here with this poor film, the film looks good in the animated world, background wise, but the actual animated characters all look horrible and badly designed. The animation of the characters is pretty shoddy looking and can't compare to 'Roger Rabbit' or any classic Warner Bros/Hanna Barbera toons, the only character that does move well is the femme fatale 'Holli'. Plus the live cast simply don't mix well with the animated characters, far too obvious. The only bit of interest in the film is the fact that its slightly adult based and shows toons being 'killed', toons showing their butts, swearing a little, mild sexual references and the character 'Holli' shows quite a bit of ass n knickers throughout which we all wanted 'Jessica Rabbit' to do haha. Cast is wildly different in terms of skills, Pitt looks the part but simply can't act too well full stop, Basinger doesn't look anywhere near as good as her cartoon version lol! and she too can't act to save her life (not that hot either in my opinion) and Byrne is way too good for this kind of silliness and shows himself up really. Mainly the animation gives it some appeal and it is somewhat of a cult, slightly, but falls well short of a decent film and makes little sense really.
Phil Hubbs
Super Reviewer
I didn't expect much from this because of both the critics and audiences responses, but it was way worse than I thought. The only reason I was able to finish the movie was to see how it got worse. I like Brad Pitt but even he was enough to save the movie. I hated everything about. The concept to me is stupid. Brad Pitt is in a cartoon world keeping the cartoons from having sex with humans. It's like a cross between Roger Rabbit and Fritz the Cat.
Melvin White
Super Reviewer