Husbands and Wives
(1992)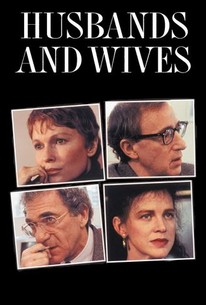 Husbands and Wives Photos
Movie Info
One of Woody Allen's most seemingly biographical films, Husbands and Wives opens with upper-middle class Manhattan couple Sally (Judy Davis) and Jack (Sydney Pollack) announcing to their best friends, the Roths, that they are splitting up. Gabe Roth (Allen) and his wife Judy (Mia Farrow) are taken aback by their casual revelation. Jack begins dating his dim, but sexy, aerobics instructor and Sally starts up a tentative romance with Michael (Liam Neeson). Gabe and Judy begin analyzing their marriage, discovering that they might not be meant to stay together. English professor Gabe begins a serious flirtation with a student of his named Rain (Juliette Lewis) and Judy begins to have feelings for Michael. Eventually, Sally and Jack reconcile, but have not improved their relationship. Gabe and Judy end up going their separate ways. Husbands and Wives was seemingly influenced by Ingmar Bergman's Scenes From a Marriage. ~ Perry Seibert, Rovi
Critic Reviews for Husbands and Wives
Audience Reviews for Husbands and Wives
½
The early nineties' shift from the ideal of true love to a boon in modernized romances is very clearly defined in this very real and poignant film from Woody Allen. The film looks at the lives of two couples, Jack and Sally (Pollack and Davis) and Gabe and Judy (Allen and Farrow), who each flirt with the ideas of separation, divorce, dating, and open marriage. Each character plays off all the others so well, and the amazing performances from Davis and Farrow especially lend authenticity and humanity to an otherwise maudlin tale. The film doesn't capture the attitudes of people with everything figured out, but instead these manic, often confused, and regularly volatile people who don't understand what they want, or how to get it. At the end, the characters' motivations become clear and we see what dispassion and animosity can grant in a relationship.
Spencer S.
Super Reviewer
The mockumentary set-up is rather unnecessary, and some of the relationships make and break too quickly, but the script holds nothing back. These husbands and wives sure get ugly: from Sally's darkly comedic manic episodes during a blind date to Jack orchestrating an ill-timed reunion while making his new squeeze wait in the car. What this movie is though is a tour de force showcase for the acting talents of Judy Davis and Juliette Lewis. I hesitate to call them "Woody's Women" - an endearing though patronizing moniker for his ingenues - because that implies ownership, and since this is purported to be a biographical film, Rain's criticisms of Gabe's patriarchal views of females in his book may hit close to Woody's own home. Judy Davis is shrill and brittle, but sensuously so. I've never thought much of beady-eyed Juliette Lewis, but her wise-beyond-her-years creative writing co-ed steals every scene. Rain's gratitude is never insincere, and her flirtation is subtle. The long take of her placid face in the cab as Gabe insults her for being honest about his book is so great because she just takes it. She doesn't get upset; she knows she's worth it.
Alice Shen
Super Reviewer
Whether you are a fan of Allen or not, this film needs to be watched for the opening scene alone. When Jack (Sydney Pollack) and Sally (Sally Davis) come over for a dinner at their friend's Gabe (Woody Allen) and Judy's (Mia Farrow) house, they inform the unexpecting couple that their marriage is dissolving. This is where Allen's genius comes in. Rather than focusing on Jack & Sally, he focuses on Gabe & Judy's reaction to the news and the implications it has on their own marriage. Using a handheld, Allen invasively follows Gabe and Judy. As the camera shakes and follows the disquieted couple, you really get the sense that this news has shaken their foundation. It is a brilliant scene and in my opinion, Woody's best.
Husbands and Wives Quotes
| | |
| --- | --- |
| Gabe Roth: | I'd hate to be your boyfriend; he must go through hell. |
| Rain: | Well, I'm worth it. |
| | |
| --- | --- |
| Sally: | It was a huge blow to my ego. You know, I thought he loved me, that, uh, that we were experimenting, you know. |