The Merry Widow
(1952)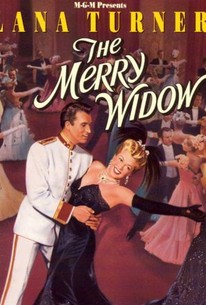 AUDIENCE SCORE
Critic Consensus: No consensus yet.
Movie Info
Based on an operetta by Franz Lehar, this remake of the 1934 original finds a wealthy widow returning to her husband's native land to dedicate a memorial to him. The country's king, deep in debt, tries to convince her to stay by offering a count for her to marry.
Critic Reviews for The Merry Widow
There are no critic reviews yet for The Merry Widow. Keep checking Rotten Tomatoes for updates!
Audience Reviews for The Merry Widow
½
A good remake from the original. Lana Turner and Fernando Lamas both are very good in this movie and look great!!!
Mason Williams
Super Reviewer
½
That man, the one who was singing. What's his name?
All righty, friends, I think almost all of us would agree that musicals are a bit removed from the "real" world. Because lots of us understand this, we venture wisely in to the experience of a musical ready to deploy a healthy dose of the good old willing suspension of disbelief. And if we play our part this way, we manage, with a good musical, to get caught up in the possibility that we are watching a "real" event, despite the fact that the cast may break into song and even into dance.
So when we're playing our part, the last thing we need are what I will call "meta" musical lines of dialog, such as the lines I've quoted above. The conscious pointing out of the fact that people are singing and/or dancing tends to break the illusion in which we're participating. Agreed? I mean, would it have changed much to have Lana Turner simply say: "That man. What's his name?"
Anywho, this is not what I would call a top drawer favorite musical of mine, but it is a musical nonetheless, and for that alone: plus one star. The music is mostly beautiful music: plus one star. We get Lana Turner, and lots of her, if you know what I mean : ) Plus one star. Una Merkel always makes me smile, and Richard Haydn is his usual idiosyncratically brilliant self: plus 1/2 star each.
So that's four stars so far.
Ah, hmmmmm, I wonder who decided to cast Fernando Lamas in this one. Yikes! Minus one star for that brilliant idea. He is not so good normally, but singing? Auwe . . . .
Total: three stars. For me that means average, and this is definitely a wee cut above average. So because of all that great Lana Turner exposure, plus 1/2 star more : )
Lanning : )
Super Reviewer
The Merry Widow Quotes
There are no approved quotes yet for this movie.