Forever Young
(1992)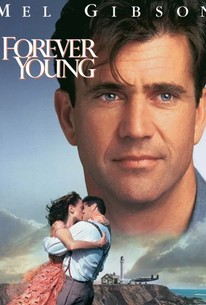 Movie Info
In this three-hanky romantic melodrama, a test pilot, distraught over the death of his girlfriend, volunteers to be a subject in a risky experiment and allows himself to be cryogenically frozen for 12 months. The year is 1939 and he is to come out in 1940. Unfortunately, something goes wrong and he is forgotten. Fifty years later, a pair of kids find the remains of the test facility and thaw him out. He comes out just fine and ends up having a wonderful effect on the lives of one of the kids and his attractive single mother while trying to adjust his new world. The sad part comes when he learns that his lover from long ago was only in a coma and fully recovered.
Critic Reviews for Forever Young
Audience Reviews for Forever Young
Steve Miner's Forever Young is a surprising film that is quite underrated. I normally find Romances to be a bit dull, and clichéd, but this one has something else, a feeling of genuine charm, humor, and good performances from its cast. What makes this film stand out is the story, simple, yet effective it just is an engaging movie from the opening shot. Mel Gibson gives a very good performance here and the film just manages to elevate the traditional romance formula. There are a few parts that seem kind of flimsy and there could have been a few better written scenes. Overall this was an enjoyable film to watch, and I really liked it. In terms of cast, and plot, it's well thought out, and director Steve Miner has crafted a very good little film with this one. I found this to be underrated and it deserved far better praise than what it initially got. Forever Young isn't perfect, but it is worth seeing if you love these types of movie. Like I said, some things could have been rewritten and the script could have been polished, but what do you expect from a low budget picture? The film was fun, dramatic and compelling. This is far better than most romance, drama films of today and it proves that you can do a lot with simple ideas. Steve Miner is a pretty good director and this is among his best films, I still think Friday the 13th Part 2 was his best, but with this one, he showcased his talents and delivered a good film from a totally different genre, which is great.
I love this movie about a man (Mel) who gets his body frozen in time as he doesn't want to see his loved one die after an accident. His body is discovered decades later. Good cast.
Candy Rose
Super Reviewer
In a tragic bit of prophetic irony Gibson stars in a sci-fi romcom wherein a guy with career potential awakens from deep sleep only to find himself without a career and without friends. "Now what," he wonders. The film goes nowhere too.
Kevin M. Williams
Super Reviewer
Forever Young Quotes
There are no approved quotes yet for this movie.