Malcolm X
(1992)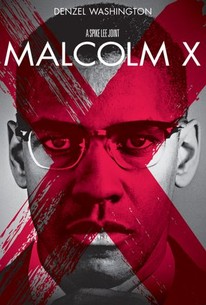 TOMATOMETER
AUDIENCE SCORE
Critic Consensus: Anchored by a powerful performance from Denzel Washington, Spike Lee's biopic of legendary civil rights leader Malcolm X brings his autobiography to life with an epic sweep and a nuanced message.
Movie Info
Writer-director Spike Lee's epic portrayal of the life and times of the slain civil rights leader Malcolm X begins with the cross-cut imagery of the police beating of black motorist Rodney King juxtaposed with an American flag burning into the shape of the letter X. When the film's narrative begins moments later, it jumps back to World War II-era Boston, where Malcolm Little (Denzel Washington) is making his living as a hustler. The son of a Baptist preacher who was murdered by the Ku Klux Klan, Little was raised by foster parents after his mother was deemed clinically insane; as an adult, he turned to a life of crime, which leads to his imprisonment on burglary charges. In jail, Little receives epiphany in the form of an introduction to Islam; he is especially taken with the lessons of Elijah Mohammed, who comes to him in a vision. Adopting the name 'Malcolm X' as a rejection of the 'Little' surname (given his family by white slave owners), he meets the real Elijah Mohammed (Al Freeman, Jr.) upon exiting prison, and begins work as a spokesman for the Nation of Islam. Marriage to a Muslim nurse named Betty Shabazz (Angela Bassett) follows, after which X spearheads a well-attended march on a Harlem hospital housing a Muslim recovering from an episode of police brutality. The march's success helps elevate X to the position of Islam's national spokesperson. There is dissension in the ranks, however, and soon X is targeted for assassination by other Nation leaders; even Elijah Mohammed fears Malcolm's growing influence. After getting wind of the murder plot, X leaves the Nation of Islam, embarking on a pilgrimage to Mecca that proves revelatory; renouncing his separatist beliefs, his oratories begin embracing all races and cultures. During a 1965 speech, Malcolm X is shot and killed, reportedly by Nation of Islam members. ~ Jason Ankeny, Rovi
Critic Reviews for Malcolm X
Audience Reviews for Malcolm X
Now that is how you make a biopic. Spike Lee's monument to one of the most controversial figures in American history is bold, comprehensive, & unflinching. Lee uses X's autobiography, penned by Alex Haley, as the source material. While this renders the film an easy target for critics who want a more objective look at this historical figure, I believe Lee, walking in step with the subject of the film, smartly becomes the provocateur. Malcolm X was not an easy figure to wrap your head around. With seemingly equal capacity for both love and vitriol, a film that tried to focus on one facet of his personality, while consequently ignoring the many other ones that made this man so enigmatic, would feel dishonest. Lets face it, this film was bound to rustle some feathers, and I think it was a smart move to let the man speak for himself. And how could you review the film without mentioning the great Denzel? How he manages to pull off such a complex character with such ease is absolutely stunning. That he lost the Oscar to Pacino is still one of the most egregious crimes the academy has ever committed. While Lee's career may be wading in troubled water as of now, Malcolm X gives me hope that he will soon rebound.
I was expecting an interesting biographical tale, but the genuine presentation crushed the possibility of fulfilment of any such expectation. More often than not, it's unnecesarrily loud & slow. It consists more caricatures than characters. The screenplay is ridiculously painful & plain boring, excluding even the benefit of being unintentionally funny. Denzel's performance helps the least. In fact, it's considerably pathetic and fails to come to rescue to provide any relief whatsoever in this journey of catastrophes. I can't find this Spike Lee disaster any recommendable. If you haven't been a victim to it as yet, better spare yourself the miseries of this miserable Malcolm X.
familiar stranger
Super Reviewer
½
Malcolm X is a lot of things: controversial, bold, procedural, and informative. From the audacious opening shot that reimagines and redefines the classic Patton image of the American flag, to the belabored attempt in the end to tie everything together with school childen, this film is defiant and unafraid to stand for its message. It's a spiritually enriching testament to the human capacity for change -- and surely Spike Lee's most universally appealing film. An engrossing mosaic of history, myth and sheer conjecture, this ambitious epic manages to sustain itself for 3 hours 21 minutes, and also overcomes an early frivolity of tone and Lee's intrusiveness to achieve a stature befitting its subject. Lee, whose enormous affection for his hero suffuses his work, nevertheless resists the temptation to sanitize Malcolm as Richard Attenborough did Gandhi. The civil rights leader, as eloquently portrayed by Denzel Washington, emerges as an immensely likable human being -- a onetime black separatist who overcame his own prejudices. Still, this biopic will ruffle a few white feathers -- and probably a few black ones too; that's a given -- but Malcolm X addresses itself to all Americans, reminding us none too gently with its opening footage of the Rodney King beating that the work is never done. Though the film covers 40 of the most turbulent years American society, it seems oddly isolated from its time and place, almost as if the characters were trapped in a snow globe. This segregation may be purposeful, even astute, on Lee's part, but it denies Malcolm his historical underpinnings. And there's a theatricality to the crowd and street scenes that give the film the look of a Broadway play. Lee brings all manner of styles and moods to the film's four chapters -- Malcolm's troubled youth, his conversion to Islam, his ministry and his pilgrimage to Mecca. It's Washington's formidable task to pull all of them all together, to reconcile the disparate Malcolms, which he does with uncanny ease. To make sense of the internal struggle, it's essential to know the tragedies of Malcolm's childhood, as recounted here in the Lee screenplay based on Alex Haley's "The Autobiography of Malcolm X." The result is utterly engrossing. Denzel, in what may be the finest performance of his career (this is the film to show people who doubt his versatility), imbues Malcolm X with fire, bravado, intellect, insecurity, pride, and love (both misplaced and direct) in equal measure. Lee once said that, in film school, making a film adaptation of Malcom X's life was a dream project. The pure, unfettered passion goes into every frame, and the result is one of the most fascinating and nuanced biopics ever made. A complex film about a complex man.
Jonathan Hutchings
Super Reviewer
Malcolm X Quotes
| | |
| --- | --- |
| Malcolm X: | You Are Not An American, You Are The Victim Of America! |
| Malcolm X: | You are not an American, you are the victim of America! |
| | |
| --- | --- |
| Malcolm X: | I Will Not Touch The White Man's Poison; His Drugs, His Liquor, His Swine, His Women. |
| Malcolm X: | I will not touch the white man's poison; his drugs, his liquor, his swine, his women. |
| | |
| --- | --- |
| Malcolm X: | The Only Thing I Like Integrated Is My Coffee. |
| Malcolm X: | The only thing I like integrated is my coffee. |
| | |
| --- | --- |
| DJ at the Harlem "Y" Dance: | I'm not fearing any man...! I may not get there with you...! |
| DJ at the Harlem "Y" Dance: | I'm not fearing any man! |