Scent of a Woman
(1992)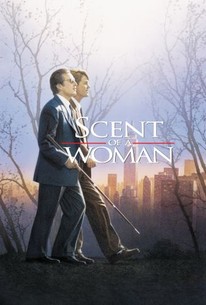 TOMATOMETER
AUDIENCE SCORE
Critic Consensus: It might soar on Al Pacino's performance more than the drama itself, but what a performance it is -- big, bold, occasionally over-the-top, and finally giving the Academy pause to award the star his first Oscar.
Movie Info
Driven by an extravagant, tour-de-force performance by Al Pacino, Scent of a Woman is the story of Frank Slade (Pacino), a blind, retired army colonel who hires Charlie Simms (Chris O'Donnell), a poor college student on the verge of expulsion, to take care of him over Thanksgiving weekend. At the beginning of the weekend, Frank takes Charlie to New York, where he reveals to the student that he intends to visit his family, have a few terrific meals, sleep with a beautiful woman and, finally, commit suicide. The film follows the mis-matched pair over the course of the weekend, as they learn about life through their series of adventures. Though the story is a little contrived and predictable, it pulls all the right strings, thanks to O'Donnell's sympathetic supporting role and Pacino's powerful lead performance, for which he won his first Academy Award. Scent of a Woman is based on the 1975 Italian film Profumo Di Donna.
Critic Reviews for Scent of a Woman
Audience Reviews for Scent of a Woman
½
Pacino is on fine form with a dazzling performance but it's not enough to make this film shine in my eyes!
Film Crazy
Super Reviewer
Al Pacino is magic in this film. You can't take his eyes of him. Added to this, the film is moving and carries an important message. It is a satisfying, uplifting, triumphant film that must be watched!
Matthew Samuel Mirliani
Super Reviewer
½
When things get tangled, tango on! Great Film! The Scent of a Woman is the kind of film that many would think belongs to a bygone era. While it is frank and contemporary without sugar coating it illustrates the value of character over glitz and how small acts can have long lasting consequences. The Scent of a Woman is very satisfying on many levels. Of course the primary reason it succeeds is Al Pacino, whose Oscar was well-deserved, needless to say. Chris O'Donnell doesn't overplay his part, and in doing so is realistic and natural. The character development is superb, dialogue terrific, glamorous locations and a story line that requires the characters to show themselves to be the people they really are. The film has a lot of funny lines and great drama. Frank is a retired Lt Col in the US army. He's blind and impossible to get along with. Charlie is at school and is looking forward to going to university; to help pay for a trip home for Christmas, he agrees to look after Frank over thanksgiving. Frank's niece says this will be easy money, but she didn't reckon on Frank spending his thanksgiving in New York.
Scent of a Woman Quotes
| | |
| --- | --- |
| Lt. Col. Frank Slade: | Something big may happen for that little thing of yours Charlie |
| | |
| --- | --- |
| Lt. Col. Frank Slade: | [Frank plans to kill himself and Charlie as well but hesitates] You don't wanna die |
| Lt. Col. Frank Slade: | [Frank plans to kill himself and Charlie as well but hesitates] You don't wanna die. |
| Charlie Simms: | Neither do you |
| Charlie Simms: | Neither do you. |
| Lt. Col. Frank Slade: | Give me one good reason not to |
| Lt. Col. Frank Slade: | Give me one good reason not to. |
| Charlie Simms: | I'll give you two. You can dance the tango and drive a Ferrari better than anyone I've ever seen |
| Charlie Simms: | I'll give you two. You can dance the tango and drive a Ferrari better than anyone I've ever seen. |
| Lt. Col. Frank Slade: | You never seen anyone do either |