Crime and Punishment
(1935)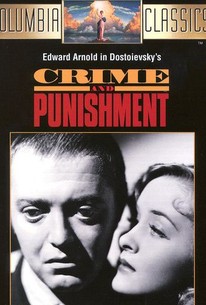 Crime and Punishment Photos
Movie Info
The story goes that Peter Lorre wanted to star in a film version of Dostoyevsky's Crime and Punishment, but was certain that Columbia Pictures chieftain Harry Cohn would turn the project down flat. So Lorre hired a secretary to type up a synopsis of the story in words of one syllable then submitted this simplified resume to Cohn. Enthusiastic over the project, Cohn gave Lorre the go-ahead -- but first he asked "Tell me -- has this book got a publisher?" Apocryphal story or no, the fact is that Lorre did star in Columbia's Crime and Punishment and in the bargain was directed by the ultra-stylish Josef Von Sternberg. As the arrogant sociopath Raskolnikov, who is convinced that he can get away with the murder of a nasty pawnbroker because he is "above" such intangibles as a conscience, Lorre is excellent, especially when his bravado is slowly eroded by the gentle but determined Inspector Porfiri (Edward Arnold). Like the aforementioned typed-up synopsis, the film oversimplifies the Dostoyevsky original, concentrating only on the crime, the pangs of guilt, the confession and the arrest: the punishment and its aftermath, so essential to the novel's overall impact, are dispensed with entirely. To make the film even more accessible to a mass audience, the story is subtly updated, though any distinctly "contemporary" touches such as automobiles, telephones and current slang are studiously avoided. The supporting cast is wildly inconsistent: Mrs. Patrick Campbell is fine in her brief scenes as the vitriolic pawnbroker, but Marian Marsh is all wrong as the streetwalker heroine Sonya. The principal strength of this Crime and Punishment is the film-long game of cat-and-mouse between the reckless Raskolnikov and the quietly methodical Porfiri.
Critic Reviews for Crime and Punishment
Audience Reviews for Crime and Punishment
Josef von Sternberg, Peter Lorre, and Fyodor Dostoevsky - that's quite a combination. It's a daunting task to put such a long and rich novel into film, and this one in particular, which had Dostoevsky plumbing the depths of human psychology. If you can forgive it for using the novel as a rough framework and appreciate it for what it delivers, I think you'll probably like it, despite what von Sternberg said afterwards. Peter Lorre plays Raskolnikov, and as always, has wonderful screen presence. He's truly captivating, and works so well with von Sternberg's Expressionist/proto-noir shadows and tight shots. It seems to me he over-acts his part in showing too much agitation early on in the police investigation, when he's not even suspected, and should have been icy cool to let some of that energy build. With that said, the cat-and-mouse game that he and Inspector Porfiry (Edward Arnold) play is fantastic, with verbal sparring, subtle hints and gestures, and each trying to outwit the other. The comic/dramatic scene he has with his sister's suitor is also fantastic, blending outrage with barbs that had me smiling. The rest of the cast is all strong, and includes Marian Marsh as Sonya, the pious poor woman he falls for and who helps spur his conscience. In the film it's not made clear that her character is a prostitute, as she is in the book. It's also interesting that the second murder, of Lizaveta, the serving girl who walks in on the first, is omitted. Those alterations were quite possibly made because of the production code, but seem to me part of a larger mistake, tipping empathy to Raskolnikov as the murderer of just an evil old pawnbroker because of his poverty, when we should be feeling the horror of a sociopath bordering on nihilist, who murders in large part because he thinks he can get away with it. As other critics point out, the fact that his conscience is part of his downfall is a bit naïve, but this is an aspect of Dostoevsky's masterpiece. It just doesn't conceive of the fact that there are people out there who can commit these kinds of crimes, and suffer no pangs of guilt at all about it, even if someone else gets wrongly convicted. As you can see from the direction my review took despite my introductory paragraph, comparisons to the novel are inevitable. How interesting it is to read that von Sternberg himself disliked the film, and did it only out of contractual obligation. Even so, I think he delivered. There is enough here to make the film entertaining - solid direction, clean story-telling, and great performances.
Antonius Block
Super Reviewer
how is it this film has so few ratings on flixster? it's very entertaining! lorre is great as the arrogant impoverished writer who sees himself as a 'superman' like his hero napoleon but is ultimately undone by his own conscience. of course no film will entirely live up to a great novel and this is an oversimplified version to be sure; the odd mix of accents barely acknowledge the russian setting. it's a hollywood bastardization of dostoyevsky so be prepared but definitely worth it for lorre fans
Stella Dallas
Super Reviewer
Crime and Punishment Quotes
There are no approved quotes yet for this movie.