Sniper
(1993)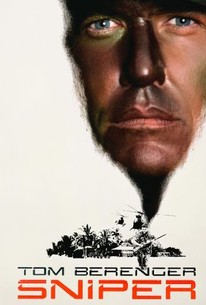 Movie Info
In this taut jungle melodrama it is difficult to tell the hunters from the hunted. It is set within the heavy Panamanian jungles and centers upon two Marine Corps marksmen who have been assigned to assassinate a Colombian drug czar. Tom Beckett is the senior corpsman who has killed over 70 people, none of them accidentally. He enjoys his job and prides himself on his care to never hit the innocent. His former partner was Corporal Papich who was unfortunately killed on the last mission. Papich's replacement is the eager-beaver rookie Richard Miller who has won an Olympic Medal for his shooting. Although not a military man, Miller has connections with the National Security Council that assigns these missions and is now eager to prove himself, especially after the Council placed the novice in charge of the mission and considers the more experienced Beckett expendable. Naturally there is tension between the two disparate killers, especially after Miller demonstrates his ineptitude under pressure. Before they can kill the drug lord, they must first ingratiate themselves with the local Indians. To do so, the loner Beckett agrees to deviate from his orders and murder the cruel ex-CIA operative El Cirujano who has been torturing the locals. Unfortunately, Miller makes the shot and botches the job. The locals then refuse to help and tension between the men escalates. When El Cirujano captures Beckett, Miller must somehow get his act together, save Beckett, and fulfil his mission.
News & Interviews for Sniper
Critic Reviews for Sniper
Audience Reviews for Sniper
½
Decent action film, Sniper is one of those low budget action films that never really stood out among the genre, but it does manage to be entertaining from start to finish, despite its so-so acting, and paper then story. The story written here is nothing too complex, and for fans of forgotten action films, Sniper is a perfect film to watch. I quite liked it, but I also felt that it had the potential of being so much as well. For what it is, it's an entertaining film and it's engaging from start to finish. Tom Berenger and Billy Zane are quite good here, but both actors have made better films. Sniper has tense moments that make the film worth seeing, and even if it never becomes anything really good, I thought that the film was quite decent for what it tried to accomplish. The story like I said is pretty basic, and for a film like this, that's all you need. Although it's a bit clichéd, what do you expect from a low budget affair like this? This is the type of film that you watch only once, and it doesn't necessitate multiple viewings. If you're a genre fan and enjoy low budget action flicks, then you're sure to enjoy Sniper. The film works well enough for its run time, but it does show its age. If you're expecting something truly great, you'll sadly be disappointed, as there's never anything truly engrossing. Sure, it's a fun film, but like I said, it's one that isn't worth revisiting again and again. The film's somewhat lacking script is the film's major mistake, and in turn, the film never becomes a truly awesome action film.
There is a tiny bit in Sniper one which has 2 versions. The Trailer on flixster shows a different version when the DC guys talk to Billy Zane s Character about his mission in Pananma. Check out 00:21 the flixster Trailer. The DVD version is totally different. I dont know if this was the Theater version?
½
I love Tom Berenger, probably served as inspiration for the sniper scenes in Saving Private Ryan or Shooter, no joke.
Lenny Muggsy
Super Reviewer
Sniper Quotes
| | |
| --- | --- |
| Cacique: | Los ojos, quierro los ojos. |
| Richard Miller: | He wants my eyes? |
| Thomas Beckett: | Ah, he means antejos, your shooting glasses. Give them to him. |
| Richard Miller: | Why? |
| Thomas Beckett: | Because he likes them! |