Boy Meets Girl
(1938)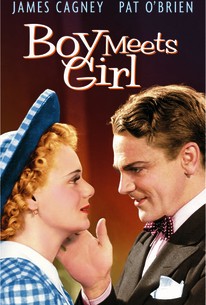 Movie Info
Once a staple of summer stock and community theatres, Bella and Samuel Spewack's Broadway farce +Boy Meets Girl dates rather badly when seen today. The 1938 movie version is also a bit mildewed, though it is saved by the dynamo-like energy of James Cagney and Pat O'Brien. The stars are cast as Robert Law and J.C. Benson, a pair of iconoclastic Hollywood screenwriters based upon Ben Hecht and Charlie McArthur. Cynically declaring that every film can be boiled down to "Boy meets girl, boy loses girl, boy gets girl", Law and Benson drive their studio-executive bosses crazy with their zany irreverence. Their pet target is bigwig C. Elliot Friday (Ralph Bellamy), a delicious take-off of 20th Century-Fox prexy Darryl F. Zanuck. Friday orders the boys to concoct a screenplay for cowboy star Larry Toms (Dick Foran), whose popularity is on the wane. Upon making the acquaintance of pregnant, unmaried waitress Susie (Marie Wilson), Law and Benson hit upon a brilliant scheme: they'll transform Susie's baby into a child star and team the kid with Toms in his latest epic ("based on an original story by William Shakespeare"). Complication piles upon complication, reaching a high point of hilarity when the baby gives Larry Toms the measles. Ronald Reagan appears briefly as a radio announcer covering the Hollywood premiere of Law and Bensen's newest masterpiece. Boy Meets Girl was originally conceived as a Marion Davies vehicle, with the comedy team of Olsen & Johnson playing the screenwriters, but things changed radically (and for the better) when Davies' sponsor William Randolph Hearst huffily pulled his Cosmopolitan Pictures unit off the Warner Bros. lot.
Critic Reviews for Boy Meets Girl
Audience Reviews for Boy Meets Girl
½
Silly story put over by energy of cast.
Boy Meets Girl Quotes
There are no approved quotes yet for this movie.