Boiling Point
(1993)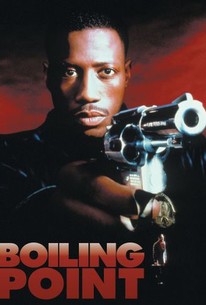 Movie Info
The boiling point is mighty low in this tepid action programmer. Wesley Snipes plays Jimmy Mercer, a Treasury agent whose sting operation goes bad. Engineered by Ronnie (Viggo Mortensen), a dull-witted but sadistic ex-con, the operation not only fails, but one of Jimmy's colleagues is killed by Ronnie in the process. As punishment, Jimmy is exiled to Newark, where he is given seven days to find the man responsible for the death of the officer. Meanwhile, slimy con-man Red (Dennis Hopper) has Ronnie deceived into thinking that Mercer is a big-time crook with influential connections. Red does this to enlist Ronnie's aid to participate in a third-rate crime spree. When Ronnie and Red begin their two-man crime wave, Jimmy is in relentless pursuit behind them.
Critic Reviews for Boiling Point
Audience Reviews for Boiling Point
½
It's a fun movie and has some pretty cool moments including the Principal from Breakfast Club getting shotgunned in the face and run over twice by a deranged Viggo Mortensen. However, this really suffers from not knowing who their main character is. Wesley Snipes is definitely marketed as the good guy action hero, but it's almost as if there is just as much time spent humanizing Dennis Hopper. It just makes the movie feel uneven when it could have been a really straightforward action extravaganza.
Conner Rainwater
Super Reviewer
½
A unremarkable movie. Cops bend the rules a bit to catch the bad guy.
½
Average action of Wesley Snipes I ever watched.
Dean McKenna
Super Reviewer