Shanghai Express
(1932)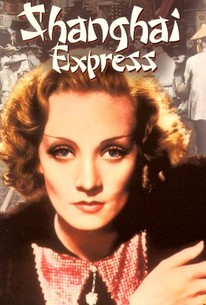 Movie Info
Two notorious women of the night are aboard a train that is hijacked by rebel Chinese.
Critic Reviews for Shanghai Express
Audience Reviews for Shanghai Express
Marlene Dietrich stars as "Shanghai Lily", a woman of some ill repute traveling across China in a passenger train. The other passengers have nothing but contempt for her and her female companion (Anna May Wong). Well, everyone but Captain Harvey (Clive Brook). He and Marlene had a relationship years ago, but the Captain didn't trust her and threw her over. Since then, she's been wandering the Chinese countryside, destroying men's lives wherever she goes. When Mr. Chang (Warner Oland, known for his role as Charlie Chan) turns out to be the leader of a rebel force, we learn to what extent Marlene still loves the captain and to what extent she will go to protect him. Despite exotic locales and characters, it's Dietrich who is the sole reason for watching "Shanghai Express". She's incredibly beautiful, emotive, and her costumes are a movie unto themselves. Director Josef von Sternberg knows how to shoot his leading lady, and there are moments when Dietrich's face is as beautiful as a framed work of art.
Devon Bott
Super Reviewer
Marlene is terrific in this as is Anna May Wong. Banton's creations for them are eye popping but the whole thing is almost undone by the dreadful perfomance by Clive Brook.. Marlene's passion for him comes across as a mystery since he is a block of wood throughout the film.
marlene and anna may wong are simply divine amid the trademark von sternberg atmosphere of exotica. beautifully shot with many classic poses. lily's once and future lover clive brook is an awful stiff tho
Stella Dallas
Super Reviewer