Posse
(1993)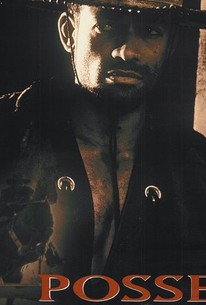 Movie Info
This fast-paced, stylized western views the traditional genre from an unusual African-American perspective, presenting the adventures of a group of escaped black soldiers as they attempt to protect a small, African-American community from the evil acts of a corrupt white sheriff.
Audience Reviews for Posse
Interesting idea to focus on the forgotten black cowboys of the west but unfortunately Peebles doesn't do this age any justice with this bad embarrassing wannabe mess. The problem here is Peebles has gone down the silly shoot 'em up route where maybe a more sensible approach could of worked wonders. The other problem is the film is pretty close to B-movie territory with a very average D-list cast and poor looking action sequences. Plus every single western cliche has been thrown in alongside every single modern action flick cliche too, its like a John Woo movie in the wild west. Its a cliched western of course as you would expect but it all looks slightly cheap with bad editing. Other things spoil its potential such as certain moments where characters use the swear word motherf*cker which I doubt is accurate for the time methinks. Also the way Peebles has clearly tried to make himself look as super cool as possible is cringeworthy. His costume looks like its from a graphic novel of a dark brooding anti-hero whilst everyone else looks relatively accurate for the era. Talk about giving yourself the best role with the best looking duds. Billy Zane does add some class and laughs into the situation but his character is so stupid. He basically plays a regular out n out villain, with redneck tendencies naturally, who just happens to be wearing civil war era attire. This character could be placed in any action movie in any setting and it wouldn't make any difference, he would still be exactly the same and the film would be exactly the same. He's just a plain villain, he has nothing to do with the era he's placed in other than the fact he's wearing civil war uniform. A good evil turn from Zane sure but the character is such a stereotypical Hollywood bad guy. Basically Peebles has gone for the slick rock n roll 'Young Guns' approach mixed with silly action movie cliches...but has failed on both counts. A more realistic film could have been a winner as this subject hasn't been touched upon much in Hollywood. Nail in the coffin for me was the quite hideously out of place rap track over the end credits, errr...no.
Phil Hubbs
Super Reviewer
this was better than expected. it wasnt great, but it had its bright spots.
Rather trashy blaxploitation reinvention of the western, much more in the anachronistic spirit of Young Guns than Unforgiven (Tone Loc doesn't even TRY to act like a cowboy!). It's amusingly dumb, particularly the sequences involving backward gun totin' redneck Stephen Baldwin, but it takes itself a lot more seriously than it should. Nice to see some cameos by stars of the original blaxploitation films of the 70s though.
Posse Quotes
There are no approved quotes yet for this movie.