Die Nibelungen: Siegfried (Siegfried's Death)
(1924)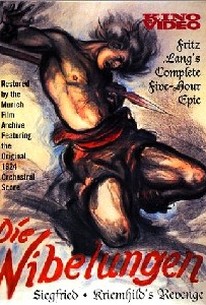 Movie Info
This lushly produced UFA production from Fritz Lang was adapted from the Norse sagas, and also from the Wagner operas Siegfried, Gotterdaemmerung, and Lohengrin. There is also a sequel -- Kremhilde's Revenge (Kriemhild's Rache). Siegfried (Paul Richter), son of King Siegmund, masters the art of forging a sword at the shop of Mime (George John). On his journey home, he hears tales of Kriemhild, the princess of Burgundy (Margarete Schoen). En route to Burgundy, Siegfried slays the dragon Fafnir, and bathes in his blood. This mades him invulnerable to attack -- except for one spot on his shoulder blade which he has missed. After finding the treasure of the dwarfs, Siegfried arrives in Bergundy. He meets the beautiful Kriemhild and accompanies King Gunther (Theodor Loos) to Iceland. The king wins the powerful Brunhilde (Hanna Ralph) as his wife, and Siegfried weds Kriemhild. Brunhilde plots to have Siegfried killed and makes up lies about him to the King. Gunther's uncle, Hagen Tronje (Hans Schlettow), finds Siegfried's weak spot and pierces it with a spear. After confessing that she made up stories about Siegfried, Brunhilde kills herself. An interesting side note: Adolf Hitler and Josef Goebbels both claimed this film as one of their favorites. ~ Janiss Garza, Rovi
Critic Reviews for Die Nibelungen: Siegfried (Siegfried's Death)
Audience Reviews for Die Nibelungen: Siegfried (Siegfried's Death)
½
If you like The Lord of the Rings Trilogy, you may want to check out this German silent fantasy epic. Richard Wagner composed an opera cycle based on the same Medieval Norse epic poem. The costumes and sets are grandly operatic! Fritz Lang and his, then, wife, Thea von Harbou, split the tale into two parts. The script evidently is not an adaptation of Wagner's version, though. The word Nibelungen refers to a group of dwarves protecting a treasure. This first part, which is better than the second, contains a full-scale dragon puppet (not a miniature model), some dark animation, and plenty of fantasy magic effects. The hero, Siegfried, forges a magic sword and becomes invincible after slaying the dragon. However, he inherits a curse on the Nibelungen's treasure when he takes it. Siegfried finally arrives in the Kingdom of Gunther intending to marry Gunther's sister, Kriemheld. The duplicitous Gunther puts Siegfried through several challenges, but he and his one-eyed, winged-helmet wearing advisor Hagen of Tronje never trust Siegfried and eventually conspire to kill the hero. Thus, we are led to part two, Kriemheld's Revenge.
Byron Brubaker
Super Reviewer
½
lord of the rings of the silent era. a lavish production of the norse sagas filmed at ufa between 'dr mabuse' and 'metropolis'. siegfried slays a dragon, steals the dwarves' treasure and wins the hand of the fair kremhild...and this is only part one! interestingly all of lang's silent epics and early sound films were written by his then wife thea von harbou, who stayed behind in germany and joined the nazi party
Stella Dallas
Super Reviewer
½
Fritz Lang's adaptation of the epic "Die Nibelungen" poem is so massive that it's intimidating to even review it. It's almost five hours long, spanning two separate films, and its scope makes even "Intolerance" look unambitious. The sets are consistently dazzling, and the cast is enormous. If the first half is "The Lord of the Rings," then the second half is Kurosawa's "Ran." The scale is that big. First, I must emphasize a misconception which I myself had: The film is not based on Richard Wagner's famed opera cycle, nor does it contain any of Wagner's music. It only shares the same source material. The gist of the tale: Heroic Siegfried is raised as a swordsmith. He leaves home to stalk and kill a notorious dragon, and learns that bathing in the dragon's blood will make him invincible. But alas, a leaf quietly falls on his shoulder amidst the shower, leaving him with one vulnerable spot. Shortly thereafter, Siegfried is ambushed in the woods by Alberich, the king of the dwarves. He bests Alberich, and Alberich promises his realm's vast treasure in exchange for his life. Siegfried takes the bounty, and becomes a king of multiple lands. Soon he joins forces with another king, Gunther, who recruits him to use shape-shifting magic to win the defiant warrior-queen Brunhild in marriage. In trade, Gunther gives Siegfried the hand of his own sister Kriemhild. But there's a complication: Brunhild eventually learns that Siegfried posed as Gunther to subdue her. She bitterly lies to Gunther that Siegfried took her virtue, and demands Siegfried's death in retribution. So, Gunther begins plotting with the evil, one-eyed brute Hagen to take down Siegfried and seize his treasure. Hagen finally kills Siegfried in an ambush. Kriemhild is grief-stricken. The second film "Kriemhild's Revenge" begins with Kriemhild being courted by one Margrave Ruediger, an emissary of the ugly but goodhearted Hun king Etzel. Kriemhild accepts the proposal, but only because she hopes to amass allies to avenge Siegfried's murder. Etzel's appearance is frightening (all the Huns have wonderful makeup and costumes), but he proves to be an unexpectedly loving father to their infant offspring. Meanwhile, the wicked Hagen has secretly dumped Siegfried's entire treasure into the Rhine river. There is no need for further details, but rest assured that the Nibelungen and Hun tribes clash in a massive, extended battle, staged with a panache that any contemporary director would envy. And of course the story is a tragedy, so there are no victors. "Siegfried" is arguably the better film, mainly due to two spectacular sequences. The dragon-slaying scene is a knockout, and features a dragon (a large puppet, rather than a stop-motion miniature) that is remarkably convincing by 1924 standards. The monster is not particularly fearsome -- in fact, it's almost pitiful -- but it does breathe smoke and fire, and gush blood from its wound. The second amazing segment is when Alberich guides Siegfried into a mountain to gift him the Nibelungen treasure. The image of a giant plate of riches, borne on the shoulders of a ring of dedicated dwarves, is unforgettable. From there, "Siegfried" is a slight letdown, mostly focusing on various grim conversations staged within castles. There is an intriguing dream sequence about a clash between white and black birds, inventively depicted with sand animation. But the remaining action is a bit on the talky side, and the staggered, expressionist acting can be dated and creaky. Another significant, somewhat amusing, problem: The "beautiful princess" Kriemhild's makeup is so severe (paging Siouxsie Sioux!) that she literally looks like a man wearing a blond wig. The confusion is strong enough that I looked up the cast to see if the person really was a man. With the second film "Kriemhild's Revenge" (almost identical in length), the emphasis is more on human choreography than sets. Most of the Huns live in caves, so Etzel's palace is the only set which rivals the Nibelungen's extravagant realm. But the battle footage is incredible, and the eventual destruction of the palace is spectacularly apocalyptic. Fritz Lang's direction and editing are flawless, and the visuals are not as dated as those in the more celebrated "Metropolis." Every silent-film fan should see this unique saga. And please don't be scared by the extreme length -- the story moves fast, beyond perhaps the middle section of "Siegfried." And no one is demanding that you watch both films in a single sitting.
Eric Broome
Super Reviewer
Die Nibelungen: Siegfried (Siegfried's Death) Quotes
There are no approved quotes yet for this movie.