Cliffhanger
(1993)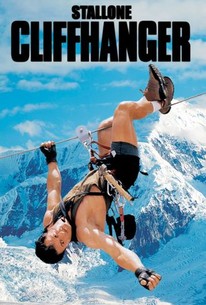 TOMATOMETER
AUDIENCE SCORE
Critic Consensus: While it can't escape comparisons to the movies it borrows from, Cliffhanger is a tense, action-packed thriller and a showcase for the talents that made Sylvester Stallone a star.
Movie Info
A Rocky Mountain rescue expert (Sylvester Stallone) has retired because of his role in a woman's death, but the kidnapping of his girlfriend (Janine Turner) by a hijacker (John Lithgow) eager to recover stolen money spurs the mountaineer into action.
News & Interviews for Cliffhanger
Critic Reviews for Cliffhanger
Audience Reviews for Cliffhanger
½
1993 was a big year for Mr Stallone, not only did this huge box office success come out but later that year we were presented with 'Demolition Man'. Oddly enough this was also the last year where Stallone's movies managed success, after 1993 his work went downhill considerably and only got back on track in 2008 with his [i]Rambo[/i] reboot/sequel. This film could well be the first 'Die Hard on a' example to come along, 'Die Hard on a mountain'? meh maybe its just me?. The whole thing is your standard action fare really, nothing original and nothing fresh. A bunch of bad guys after lost millions on a mountain, hostages, plenty of gunfire, plenty of blood, lots of profanity and an evil caddish bad guy boss to equal Rickman's 'Hans Gruber'. I must admit I never really liked this film as it just feels too run of the mill, accept for being based on a mountain of course (mountainous snowy terrain). I've always been in the Arnie camp personally I never really thought Stallone could match up with his efforts. I simply cannot look at this film without thinking of 'Die Hard/Die Hard 2', its such a copy, really it is, right down to Lithgow's corny British villain. The action isn't all that impressive either really, a mixture of highly dangerous stunts which are admittedly good enough to make your palms sweat, and blatantly obvious sets. One minute the film looks sweet as a nut with some lovely location shots and real live action, the next you're looking at some crappy bluescreen effects or an obvious plastic rubbery set. Actually to be honest the film is a bit drab looking for the most part, lots of grey and white rocky terrain. The entire cast in this film is pretty boring too, the bad guys aren't really very interesting but that's cos we don't really get to know them. All the good guys n gals are just wet and annoying, Rooker's character does so much slow motion running and screaming its hilarious, did this film start that trend?!. Only Lithgow holds things together with his hammy campness, problem there is he doesn't really look right for the part nor does he look like he could beat up Stallone, but his evilness is fun. Can't deny the film is a blast of adrenaline with its ridiculous moments of sheer dumbness. Stallone climbing up the rockface in his t-shirt, then whilst under the frozen icy water he removes everything and goes topless! why exactly? but hey this is a stupid action thriller what do you expect. A decent flick for the Stallone camp but its complete lack of realism and easy to spot stunt doubles/bad effects are all too clear. Great film title though.
Phil Hubbs
Super Reviewer
Cliffhanger may seem like your ordinary cliched action film, but I can assure you that it is far more than just that. Sylvester Stallone actually pulls of a decent performance and the entire cast is very likeable. After the accident of losing his best friends girlfriend, Gabe (Stallone) has to live with the fact that his friend will never forgive him. Once they get caught up together again in a situation that causes the incident, they want nothing to do with each other. The action is top notch, the acting is pretty good, the visuals are decent, but the story and the execution of the plot is really what counts here, and it is done phenomenally. I must complain that the dialogue can become a little silly sometimes and the green/blue screens may be noticeable, but it is still a great action film! "Cliffhanger" is awesome!
Severely underrated Stallone flick. I had only seen bits and pieces of it before on TV, where it gave me a mediocre impression. But now that I saw it in its full length, I'm really surprised to say it was a great and well-paced actioner. John Lithgow is superb as the film's chief villain, and I bet it was this performance they looked back to, when they cast him as a serial killer in Season 4 of Dexter (which, by the way, is also my favourite season thus far). A non-stop ride of thrills and excitement, which despite some minor defects in the dialogue, climbs all the way to the top with a rousing series of intrigues.
Cliffhanger Quotes
| | |
| --- | --- |
| Eric Qualen: | I must admit you're a real piece of work |
| Eric Qualen: | I must say, you're a real piece of work. |
| Gabe Walker: | And I must admit you're a real piece of shit |
| Gabe Walker: | I must say, you're a real piece of shit. |
| | |
| --- | --- |
| Eric Qualen: | kill a few people they call you a murderer.........kill a million......and you are a CONQUEROR. |
| Eric Qualen: | Kill a few people they call you a murderer. Kill a million, and you are a CONQUEROR. |