Sidewalks of New York
(1931)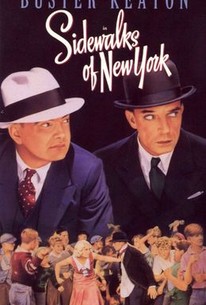 AUDIENCE SCORE
Critic Consensus: No consensus yet.
Sidewalks of New York Photos
Movie Info
Buster Keaton once described his 1931 vehicle Sidewalks of New York as "God-awful"; it's hardly that bad, though admittedly it pales in comparison with his silent classics. Keaton plays Harmon, a wealthy young Park Avenue socialite who falls in love with Lower East Side denizen Margie (Anita Page). For her sake, he tries to reform a tough gang of kids (including Margie's brother) by building a gym to keep them off the streets. A bunch of gangsters, mistakenly believing that Harmon intends to turn them over to the authorities, try to bump him off, but he's oblivious to their homicidal overtures, believing them to be his best pals. Ultimately, Margie's brother and his gang are obliged to come to Harmon's rescue. The film's highlight is a boxing match, pitting puny Harmon against the toughest lug in all New York. Though Buster Keaton was unable to get along with his director Jules White, it was ironically White who helped Keaton stage a comeback in the late 1930s by casting the comedian in a series of mediocre but profitable Columbia two-reelers.
Critic Reviews for Sidewalks of New York
All Critics (1) | Fresh (0) | Rotten (1)
Buster Keaton sold his rights to make films his own way to get a big fat contract from MGM, and a garbage pic like this one is what the studio cranked out for him.
Audience Reviews for Sidewalks of New York
Oddly enough, I found the most interesting part of this film to be Norman Phillips, Jr, the 14-year-old who plays the boy being used as a pawn by criminals pretty well. That's pretty damning, since it's got Buster Keaton and Anita Page in it. And of course, Keaton is the only real reason anyone would ever watch it, or at least should watch it. He plays an awkward, rich slumlord, which doesn't fit for several reasons, and while there are a couple of exceptions, doesn't get a chance to truly demonstrate his comedy or his humanity. The humor is too often geared towards mayhem, without enough subtlety, and the script is weak. The film has no focus, shifting from slapstick to romance to gangster to an old episode of The Little Rascals, and does none of them well. It's just not very appealing aesthetically, despite how hard we root for Keaton, or how much we admire his athleticism. If Keaton had directed and not been chafing under the yoke of Jules White, it certainly would have been tighter and funnier. It's stunning to me that this was Keaton's most commercially successful film, a fact that no doubt helped convince MGM that they knew best, when they didn't. Talk about sacrificing art for short-term profit.
Antonius Block
Super Reviewer
½
An interesting but slightly dull Keaton movie.
Sidewalks of New York Quotes
There are no approved quotes yet for this movie.