Smilin' Through
(1932)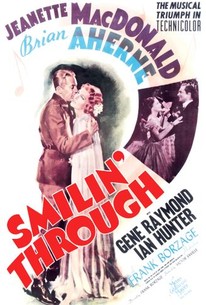 AUDIENCE SCORE
Critic Consensus: No consensus yet.
Movie Info
Smilin' Through is the story of a bitter old man (Leslie Howard), whose fiancee (Norma Shearer) was killed on their wedding day by her jilted former suitor (Fredric March). Years later, the man is forced to take care of his orphaned niece (also Shearer), who looks exactly like his fiancee. Soon, the niece falls in love with the son of the jilted suitor, and Howard attempts to stop their romance from blossoming. Sidney Franklin originally filmed Smilin' Through in 1922, and the movie was later remade in 1941.
Critic Reviews for Smilin' Through
Audience Reviews for Smilin' Through
½
What a charming film this is. It's definitely for the lover of romance, and if that's the type of film you like, this one is easy to love - it has one strong scene after another, great acting, and that wonderful feeling of how magical, strong, and yet fragile love can be. Norma Shearer's character has been raised by her uncle (Leslie Howard) after being orphaned as a child. Howard himself has suffered the loss of his wife on his wedding day, and has been pining for her ever since. One evening while Shearer is taking shelter in an old mansion with her boyfriend (Ralph Forbes) during a thunderstorm, she happens to meet another man (Frederic March), and the two are instantly drawn to one another. Things get complicated when it's revealed that March's father (also played by March) was the one who caused the death of Howard's wife (also played by Shearer). Also threatening things is March being scheduled to go off to war. I loved the way the story was told, with a flashback, so that it was a bit like a movie within a movie. It also felt like love playing out across generations, and recurring, with all the same depth of feeling. Some of the scenes evoke a sentimental or poignant feeling - in the cemetery, remembering love lost - and others evoke that wonderful feeling of falling in love. The mansion scene, with that delicious ambiance of cobwebs, a fire, an old portrait, and with Shearer and March toasting one another after he finds an old bottle of port, is fantastic. "Any old port in a storm," he quips. The two have such chemistry together. Their bike ride and time in the teahouse is also sweet, after he had essentially admitted to stalking her ("you're a window-peeper", she teases). Towards the end of that scene Shearer says, almost breathlessly, "Love is ... something you feel. It just happens. You can't do anything about it. If I loved somebody, I'd love him forever", as the camera dissolves on the old woman who has fallen asleep. I'm usually not big on Leslie Howard, but he was great too, and his scenes with the other character Shearer played were wonderful. He says to her "Wouldn't it be marvelous if every time I opened my eyes for the rest of my life, you were there?" She says: "I will be." And he says: "And always as beautiful as you are tonight?", the last bit echoing March's toast in the mansion. It's all the more touching seeing these kinds of scenes in an old movie where the actors have all passed away, but are captured in these moments, so ephemeral and fleeting, and yet with feeling so strong and dramatic. Shearer's character's personality is a romantic, and the plot allows her to express her love with such urgency, because March is going away. It is reserved and proper, with almost all of the characters (except March's father / evil March and his drinking problem) having a sense of decorum and grace, and yet these two are allowed to express their love so freely and fiercely ... it's a great combination. As she says when he's going away, "It's no use, I'll always love him. I'm just that sort of a fool. I have no pride", any hopeless romantic can identify. March's dual role may remind you a bit of his role in Dr. Jekyll and Mr. Hyde (though this is of course two characters), and as the film plays out, you may also be reminded of "An Affair to Remember". There is real angst here, from those whose love is unrequited for reasons that simply can't be explained - love happens or it doesn't - to those who suffer tragedy. When Shearer and March must part, she says with real passion, "I'm yours and you're mine; I want that to be true before you go" implying marriage and sex, but he demurs, torn. And yet, how magical it is; the eyes, the smiles, the banter, the embraces. This would be a great movie to curl up in front of with someone you love.
Antonius Block
Super Reviewer
It didn't take long to remake this one but the original is quite something to behold. Shearer and March are at their finest.
John Ballantine
Super Reviewer
Smilin' Through Quotes
There are no approved quotes yet for this movie.