Equinox
(1992)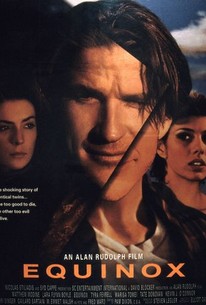 Movie Info
Alan Rudolph wrote and directed this typically off-beat drama. A brief romantic liaison between a wealthy European and an American ballet dancer results in a pair of identical twins, who are separated and raised by others shortly after birth. Henry (Matthew Modine) was adopted by Pete (M. Emmet Walsh), an auto mechanic, and Henry grows up to follow in his Pete's footsteps. Emotionally fragile, Henry is in a relationship with Beverly (Lara Flynn Boyle), a rich but painfully shy woman who is terrified by sex. Henry, however, finds his own sexual appetite increasing, and he becomes involved with Rosie (Marisa Tomei), a prostitute living in his neighborhood. Meanwhile, Henry's brother, Freddy (also played by Matthew Modine), lives in the same city, though they've never met. Freddy is a gangster and hired killer working for crime kingpin Mr. Paris (Fred Ward). While Freddy is cool and confident on the surface, deep down he hates his job and tells his wife, Sharon (Lori Singer), that he wishes he had enough money to quit and move away. As fate would have it, Freddy and Henry's mother, who sank into a severe depression after losing her children and her lover, has died, leaving a substantial fortune to her two sons, who must now meet in order to collect their inheritance. Equinox premiered at the 1992 Seattle Film Festival, though it would not open theatrically until a year later.
Critic Reviews for Equinox
Audience Reviews for Equinox
I have a great history with this film. I remember it played one weekend afternoon when I was a kid and on Monday my friends and I couldn't stop talking about it. It had all these monsters and fantastic effects and managed to be fun and scare the crap out of us at the same time. Then came the day that I heard it influenced my favourite film, The Evil Dead. I thought it might have been that film with all the stop motion effects I remembered so fondly from my youth, but I think that had been called Equinox, not The Beast. Well, it was Equinox and I watched it again, both with nostalgia, and since I had forgotten so much of it (except the ending which had haunted me and my friends so much as kids) it was like seeing it for the first time again. And then, as a full grown adult, the craziest thing of all happened, effin' Criterion released a double disc version of it! Criterion! If ever a movie deserved a double disc edition, sure I would say this one, but most people would (and did) scoff at the idea of this getting the deluxe treatment. Well, despite their whining, God must love me a whole bunch for this DVD. Now when I have kids I can't wait for them to feel the joy and scares of this wonderful little film (though I may skip ahead the sheriff molestation scene though I love that close up). Also, this is an odd instance I like the producers cut better than the filmmakers cut, but that's understandable since it was made by a bunch of kids. Highly recommended.
Christopher Brown
Super Reviewer
Equinox Quotes
There are no approved quotes yet for this movie.