The Secret Garden
(1993)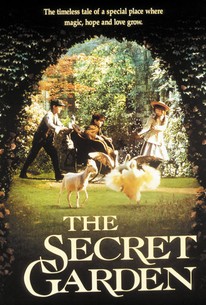 TOMATOMETER
AUDIENCE SCORE
Critic Consensus: The Secret Garden honors its classic source material with a well-acted, beautifully filmed adaptation that doesn't shy from its story's darker themes.
Movie Info
The 1993 remake of The Secret Garden is a rendition of the classic Frances Hodgon Burnett novel about a young girl (Kate Maberly) who discovers an abandoned garden on her uncle's large Victorian country estate, as well as an invalid cousin she didn't realize she had. With the help of a local boy, the girl sets out to restore the garden and, once it is blooming again, she discovers it has magical powers.
Critic Reviews for The Secret Garden
Audience Reviews for The Secret Garden
When I was a kid everyone was always saying how fantastic this movie was, but I didn't think it was all that cool. It's an okay family movie, but it could be a lot better.
There is a long tradition in British cinema of great films being made as a collaboration between British and foreign talent. Many films which are considered classics are distinctive because of this marriage of different national and cultural outlooks: Michael Powell had Emeric Pressburger, and James Ivory had Ishmael Merchant. It therefore makes absolute sense for The Secret Garden, a quintessentially English story by Frances Hodgson Burnett, to be scripted by a Briton but directed by a Pole. Like her contemporary Krzysztof Kieslowski, Agnieszka Holland is a director who knows how to bring out the delicate humanity of any given scene. Her sensitive approach to the material and knack for working with child actors combine beautifully, to create a masterful adaptation on a par with Shadowlands and Three Colours - Blue. The Kieslowski comparison is not a frivolous one, since Holland collaborated with him on the screenplay for Three Colours - Blue. And while her body of work is nowhere near as powerful or consistent, she shares Kieslowski's humanist sensibility and an understanding of the subtleties of human emotion. She has the same knack for expressing complex themes through the most subtle and innocent of interactions, conveyed through visuals which are effortlessly beautiful. There is also an incidental link in the casting: Irene Jacob, who appears briefly as Mary's mother, played the central role in Three Colours - Red. The Secret Garden is a beautiful film from whichever angle you approach it. It was shot by Roger Deakins, who would later win a BAFTA for his work on No Country for Old Men. Deakins contrasts the early, drained-out footage of the gardens, filled with pale greens and faded browns, with later lush images of what seems like the whole world in bloom. The film also includes some beautiful time-lapse footage of the garden changing from winter to spring, with flowers blooming and butterflies emerging from cocoons. The film has a genuine sense of wonder which is tragically absent from many more contemporary children's films. This point can be illustrated perfectly by comparing The Secret Garden with the family films of Chris Columbus. Regardless of Columbus' other shortcomings as a director (of which there are many), his attempts at 'wonder' or 'fantasy' feel incredibly manufactured. The first two Harry Potter films feel like they have been test-screened to within an inch of their lives, and all the imagination has been sucked out in a bid to not offend the fans. The Secret Garden, on the other hand, manages to be faithful to its source material without taking off any of its dark or slightly rough edges. Like all great children's films, there is a balance between joy and tragedy, and the film doesn't shy away from letting the audience share in the characters' misery. Just like James and the Giant Peach, the story starts with the parents of the central character being tragically killed (in the book it is cholera, in the film it's an earthquake). We follow Mary through the lonely aftermath as she struggles to fit into the forbidding new world that is laid before her, and as with James it takes something quite magical to bring her round. But despite its references to Indian religion and the rather uncomfortable scene of the children 'summoning' Colin's father, the film's 'magic' is rooted firmly in Christianity. Burnett was a prominent exponent of Christian Science, a doctrine of Christianity rooted in the belief that all of God's creation (that is, all nature) is made in His image and therefore inherently good. While this proposal might seem hard to stomach, The Secret Garden does have a very prominent Christian thread running through it, which is no more threatening or disagreeable than the fiction of C. S. Lewis (hence the Shadowlands comparison). Viewed through a Biblical prism, the garden at Misslethwaite Manor starts out as essentially Eden, with Colin's parents more or less as stand-ins for Adam and Eve. The tragic death of Colin's mother (a literal Fall, if you like) causes 'man' in the form of his father to leave the garden and barricade it up. He is shutting out all that is good because of his own guilt and shame, choosing the darkness as penance for what he believes he has done. When Mary enters the garden, finding it overgrown and in desperate need of care, she is like Lucy when she first wanders through the wardrobe: the world is special and has signs of life, but the overall mood is one of sorrow and neglect. She rediscovers the joy of nature through her innocence and curiosity, and in discovering the 'magic' she learns to live with herself and to appreciate the good in others, rather than spurning them or treating them as servants. From a slightly different angle, the scenes involving Colin reuniting with his father could be compared with Jesus' time in the Garden of Gethsemane - perhaps what the garden had to go through to regain its former glory. These scenes are of a father rediscovering his son having turned his face away for so long, returning to a place that once embodied death and not only finding life but being welcomed. The final conversation between Mary and Lord Craven is like the encounter between Jesus and Mary Magdalene outside the tomb: the line about Mary "bringing them back to life" may be corny, but it does convey the idea of redemption through acceptance. But there is more to The Secret Garden than just good old-fashioned morals. The film is thoroughly entertaining, thanks to the elegant dialogue in Caroline Thompson's screenplay. The three child actors are all highly enjoyable and convincing, with Kate Maberly and Heydon Prowse showing wisdom and grace beyond their years. Maberly may spend the first half-hour constantly in a strop, but she has a Puck-like quality which keeps her character interesting. The adult performers are also entertaining, with Maggie Smith turning in a typically domineering performance as Mrs. Medlock and John Lynch holding his own as Lord Craven (even if his long hair and moustache make him unduly resemble Colin Farrell). There are a couple of small faults with The Secret Garden. Although it does generally succeed in being charming under its own steam, it does drift into Disney convention as more animals appear. There's only so many times you can show cuddly deer before we start to feel manipulated. The ending is sentimental and a little cloying, and highlights once again the presence of unnecessary narration. It may be a children's film, but that doesn't mean you have to state the bleeding obvious at any given moment. The Secret Garden is a very fine children's film which recalls the best work of Richard Attenborough and Lionel Jeffries. Its Christian morals are presented in a very subtle way for such a prominently allegorical work, and it is every bit as fresh and entertaining now as when first released. As a spiritual film about or involving children it is on a par with Shadowlands, and as a children's film in general it is an amiable companion to The Railway Children. The film is touching, charming and captivating in equal measure, and despite its little faults it is essential viewing.
Daniel Mumby
Super Reviewer
For a child's film, this is beautifully done. Rich colors, amazing mansion and fantastic acting on all parts. Especially Maggie Smith, naturally.
Jennifer D
Super Reviewer
The Secret Garden Quotes
| | |
| --- | --- |
| Mary Lennox: | Nobody ill could scream like that. |
| Mary Lennox: | No one ill could scream like that! |
| | |
| --- | --- |
| Mrs. Medlock: | It's that child, my lord. She's created absolute havoc here. I've tried to control her. She must be sent away. She'll kill Master Colin. |
| | |
| --- | --- |
| Lord Craven: | You brought us back to life, Mary. You did something I thought no one could do. |
| | |
| --- | --- |
| Colin Craven: | Are you making this magic? |
| Mary Lennox: | No, you are. |