Deadfall
(1993)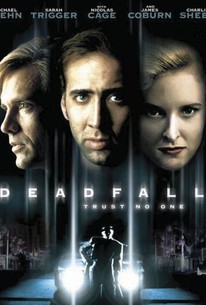 Movie Info
This lushly photographed, contemporary film noir tries to substitute looks and unconvincing, contrived plot twists for substance, capturing the look of a film noir but lacking the depth and characterization needed to make the film work. After his father, Mike is killed, Joe Donan (Michael Biehn) finds evidence that his Uncle Lou (James Coburn) in a dual role as Mike and Lou, might have stolen money from his father. Joe hooks up with Lou and his drug-taking lackey, Eddie (Nicolas Cage). Joe also falls for Eddie's beautiful, but devious girlfriend Diane (Sarah Trigger). Joe kills Eddie and gains Lou's confidence, joining him in a diamond swindle. As the unnecessarily complicated plot concludes, Joe learns the shocking truth that he himself has been the victim of a scam. Michael Biehn while a good-looking and competent actor, fails to find the depth necessary to bring his outwardly sophisticated but surprisingly naive character to life. Sarah Trigger is too shallow to make a convincing noir femme-fatale, and her obvious deviousness would fool only the most gullible. Nicolas Cage, in a totally over-the-top performance also fails to give his character any believability or depth. Director Christopher Coppola takes a potentially interesting premise and muddles it with too many plot twists and unconvincing performances.
Critic Reviews for Deadfall
All Critics (5) | Top Critics (1) | Fresh (0) | Rotten (5)
Most of the screentime goes to Michael Biehn, who brings all the gravitas of Mr. Bean to his hardboiled con man role. As far as Cage goes over the top, Biehn goes just as far under the bottom.
Audience Reviews for Deadfall
This film is awful. I mean Wicker Man awful. This dreadful piece of incompetent "filmmaking" earns its place right beside Battlefield Earth and Gigli. Populated with stars like Michael Biehn, Charlie Sheen, James Coburn, Nicolas Cage, Peter Fonda, and directed by Francis Ford Coppola's nephew, Christopher Coppola, Deadfall is a film noir with a plot that you can't possibly care about, scenes that add nothing to the story, and dialogue that tries really hard to mimic dialogue of films from the 1940s but ultimately is delivered by actors who look like they're reading from cue cards hidden behind the camera. There are two rewarding scenes, both of them involving Nicolas Cage overacting to the extreme. Cage plays a hustler named Eddie. Eddie is a ruthless criminal who has it out for anyone trying to double cross him. He isn't very smart though and is killed halfway through the film. *I include this spoiler as if you're watching this movie for Nicolas Cage's ridiculously awful performance, this is where you stop the film* Cage screams his way through the entire film and much of what he says is incoherent anyway. But his overacting is the only thing that makes this film worth watching. The plot is mainly about a con game, but it's one of those plots that move forward with too many scenes of people sitting down talking, and talking, and talking, and talking. However, nobody has anything interesting to say, and the dialogue is a really brutal attempt at wit, but it doesn't just fall flat, it's completely DOA. Deadfall is so boring you really want to turn it off and do something more productive like make a Starbucks run. Do yourself a favour. Cage's best scenes from this movie are on You Tube, and they're all actually from the same scene in the movie. Watch those off of your computer, have a few laughs, and don't even think about this amateurish, snooze-inducing excuse for a crime drama again.
Edward Boxler
Super Reviewer
Deadfall Quotes
| | |
| --- | --- |
| Eddie: | Someone's gonna kill me man! |
| | |
| --- | --- |
| Eddie: | You filthy, double crossing, little fucking filthy, double crossing, filthy, fucking goddamn fucking filthy little RAT! |
| | |
| --- | --- |
| Eddie: | What am I, a fucking retard, man? Am I A FUCKING RETARD, HUH? I know what this is! Lou's trying to snuff me out because of his GREASY LITTLE NEPHEW being around! WELL, VIVE LA FUCKING FRANCE, MAN! |
| | |
| --- | --- |
| Eddie: | Hi-fucking-yah!!! |
| Eddie: | Hi-fucking-yah! |