Airborne
(1993)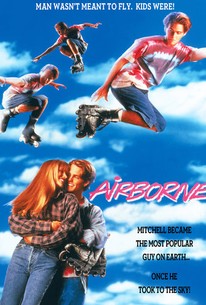 Movie Info
The exciting world of rollerblading provides the basis of this tale of a young teen who tries to gain a pretty girl's affection with his skating prowess. Eventually, he uses his skills to win his enemies' respect and the girl's heart, but not without a lot of daring skating escapades.
Critic Reviews for Airborne
Audience Reviews for Airborne
I saw this movie on TV. I loved it. Don't really know why. But I watched it and still do every time its on the t.v. Knida a silly movie, but I find it funny.
♥˩ƳИИ ƜѲѲƉƧ♥
Super Reviewer
½
Airborne is a good all-around movie that you probably never hear about. I've watched it a few times on tv, and it's a good movie. It's a realistic tale about how teenagers cope with peer pressure and how to overcome it in a round about way. It's about a surfer who moves in with his cousin and has to change schools. A lot of pranks are played on him and one of the bullies happens to be the brother of the girl that he likes. He doesn't gain any respect until he shows up at a street hockey game one day. And then it finally comes to the best part of the movie. The bullies were impressed by his performance in the street hockey game and invite him to be on their team as one of the rollerbladers that will skate down a treacherous hill and through the city in what everybody modestly calls "Devil's Backbone." The goal is for all five skaters on the team to cross the finish line first. Along the way there are cars coming at them, sharp turns and steep hills to overcome, and anything you'll find in a major city as obstacles to overcome. Not to mention that everything goes and they all fight each other along the way to gain the lead. The skating sequence in the movie is awesome fast paced action and the rest of the movie is a good example of what it's like to go through the burden of changing schools and coping with peer pressure. An all-around great movie. NOTE: That was my Amazon review from the year 2000. As a teen, this was always one of the unheard of movies I watched many times for some reason. It's great! Even though I don't care for the sport.
Jason Owens
Super Reviewer
½
There are better movies out there but for some reason i really like this one. You've all seen it... boy comes to a new place and quickly falls on the wrong side of the local bully and falls in love with a girl that has ties to the bully. Of course he has to be good at something that sets him apart from the others. In this case it's his roller blading that makes him king of the street. All the usual beats are hit in this one. He loses the girl and has to get her back. He has to stand up for himself. Like I said... you've seen it before. The main guy gets a little annoying due to his surf speak that comes off a little strong here and there but there is some sunlight in the form of Seth Green and Jack Black. It's a fun flick though. I've seen it tons of times and enjoy it each viewing.
Jason Spencer
Super Reviewer