Cool Runnings
(1993)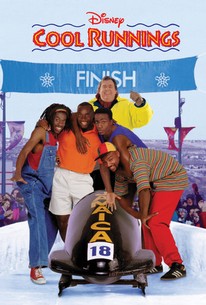 TOMATOMETER
AUDIENCE SCORE
Critic Consensus: Cool Runnings rises above its formulaic sports-movie themes with charming performances, light humor, and uplifting tone.
Movie Info
Cool Runnings fictionalizes the true story of a bobsledding team from Jamaica making it to the Olympics. The tale begins when Derice Bannock (Leon), realizing that due to an accident his chances of qualifying for Jamaica's 1988 Olympic track team are dashed, scrounges around looking for another sport for the competition. Since ex-United States gold medal bobsledding winner Irv Blitzer (John Candy) now lives in Jamaica, Derice chooses bobsledding, convincing Irv to coach the team. Derice then forms his team. He gets his friend Sanka Cofie (Doug E. Doug) to join up and recruits Junior Bevil (Rawle D. Lewis), a young man who lacks self-confidence, and Yul Brenner (Malik Yoba), a disagreeable and bitter malcontent. After setbacks and near disasters, the group jells as team members and they head off to the Olympics to compete for an Olympic spot.
Critic Reviews for Cool Runnings
Audience Reviews for Cool Runnings
½
Cool Runnings is a very good comedy about a Jamaican Bob Sled team. This is a well made comedy with lots of laughs, a decent cast, and of course the brilliance of John Candy. There are plenty of good things to enjoy about this film, and it surprised me quite a bit. Cool Runnings is lots of fun, and is one of the better underdog comedies out there. The film is not perfect, however it's very entertaining. The film has a good cast, and has a very original idea for its plot. The film funny, and the cast do a good job at delivering the laughs. John Candy one of his last performances here, as this was one of three final films he starred in before he died. Candy as usual shines here, and delivers a good performance. This is a very good comedy that is simply lots of fun. The performances are good, the story is interesting and the laughs are plentiful. I enjoyed this film more that your regular sports comedy, and at times Cool Runnings manages to be better than most sports comedies. This film is a classic of sports comedies, and should get more recognition. This is a good film to watch with friends, and you're guaranteed plenty of laughs. John Candy is great here, and his performance alone makes this film worth seeing. Cool Runnings is a childhood favorite of mine, and is a film worth seeing. The films plot may seem a tad ridiculous, but it's totally worth watching. A fun filled comedy that will make you laugh.
½
"Cool Runnings" is a film that shouldn't be good, but is. It isn't a masterpiece, it doesn't excel in any particular technique of filmmaking, nor is the acting the greatest, or the directing impossible to repeat. Yet, it is a film that makes you feel, in many different ways. Telling the story of the first Jamaican bobsled team, and starring John Candy, Leon, Doug E.Doug and others, the film delivers a compelling, emotional, story that inspires at the same time. As I said earlier, technical aspects or acting/directing aspects, aren't the best. They don't make the film what it is. What makes the film is the brilliant, and also true, story behind it. The underdogs, a Jamaican bobsled team, it all seems ridiculous. You hate the characters at the beginning, they managed to irritate me in many different ways, but by the end, you have made friends and you're rooting more than any of the crowds that probably did watch the event live. A family favourite, it can cheer you up no matter what, as you find your hairs standing on end and a tear forming in your eye by the end of this little, un-important, yet great film. ***' 3 & A Half Star
Adam Kelly
Super Reviewer
Entertaning, funny and inspirational, Cool Runnings, bring a good cast and screenplay. Probably the best work of Jon Turteltaub. Fresh.
Lucas Martins
Super Reviewer
Cool Runnings Quotes
| | |
| --- | --- |
| Sanka Coffie: | I'm feeling very Olympic today! |
| | |
| --- | --- |
| Sanka Coffie: | "Feel the Rhythm! Feel the Rhyme! Get on up, it's bobsled time! Cool Runnings!" |
| Sanka Coffie: | Feel the Rhythm! Feel the Rhyme! Get on up, it's bobsled time! Cool Runnings! |
| | |
| --- | --- |
| Sanka Coffie: | Rise and shine! |
| Derice Bannock: | It's butt-whippin' time! |
| | |
| --- | --- |
| Sanka Coffie: | Jamaica, we have a bobsled team! |