The Beverly Hillbillies
(1993)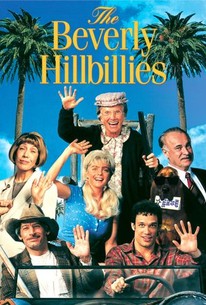 TOMATOMETER
AUDIENCE SCORE
Critic Consensus: Wasting a talented cast and director Penelope Spheeris' deft comedic touch on crude hijinks, this lame adaptation digs for comedic gold and only finds dirt.
The Beverly Hillbillies Photos
Movie Info
Based on the popular television sitcom from the '60s, this comedy features a backwoods Arkansas widower, Jed, who moves to Beverly Hills with family members in tote after signing over rights to his oil-rich land--and making a load of cash. Soon the new folks in town are the targets of a scheming couple trying to get their hands on Jed's fortune. Watch for celebrity cameos--including TV's Jed, Buddy Ebsen, as Barbaby Jones!
News & Interviews for The Beverly Hillbillies
Critic Reviews for The Beverly Hillbillies
Audience Reviews for The Beverly Hillbillies
I've seen this comedy so many times back in the day, though far from good, this a mediocre comedy to say the least. The film did possess a few good laughs, but the acting was not good and the script was pretty bland. For mild entertainment value, the film does its job. If you're looking for a great comedy that's memorable, then this isn't it. The film is mediocre to say the least, and this film is quite forgettable. The Beverly Hillbillies is not a film that withstands multiple viewings. The film makes you laugh, but the problem is that there's really no substance to its plot. Mindless entertainment comes to mind when I think of this flick, and overall it's mediocre. This is one of those films that could maybe have been good, instead it suffers far too much from a poorly written script. Though this is better than The Dukes of Hazzard film, this one still lacks anything to truly please an audience. This film is mildly amusing with a few good laughs, but is never anything good or great either. Director Penelope Spheeris succeeded once with a comedy with Wayne's World. This comedy is mediocre with a few good laughs here and there, but misses the mark at being a good comedy.
I like remakes of shows sometimes and this was one of them. I find that I like this one just as much as the old version. Varney lends a serious tone and is nothing like Ernest and I enjoyed seeing him do something more dramatic. I love Ernest but I always knew Varney was capable of pulling off a more serious role. He was outstanding in this and 90% of the reason why I watched it. When I saw Varney come down the stairs in a black hat, pants, jacket and a white shirt, I thought, "Weeee, doggie. Seeexxxyyy." Lily Tomlin was just hilarious and I couldn't help but have a smile on my face when she appeared on screen. I realized that with her, Dolly Parton and Dabney Coleman, it was a 9 to 5 reunion. Diedrich Bader as 'Jethro Bodine' was so mindless and I cracked up when he thought he had figured out how to bowl. He kind of reminded me of Ernest, but without the charm. I like Lea Thompson but I hated her character, 'Laura Jackson'. She was a cold hearted con artist and 'Woodrow Tyler' was no better. But Rob is great in this one as well. Cloris Leachman was a hoot as 'Granny' and I've been a fan since I saw her as the witch in 'Hansel and Gretel'. Erika Eleniak as 'Elly May' was fitting and I think she did a great job. It was so funny to watch them shoot people the bird because they thought that was how people said 'hi' in CA. But, I'll still have to say that Varney rules!! One of my favorite lines was, "That's real nice, son. This here's what I carry". And Varney picks up a huge rifle and points it at those hooligans.
Stacy Avary
Super Reviewer
Diedrich Bader is really the only reason to see this movie. He does some brilliant work in it.
Tim Salmons
Super Reviewer
The Beverly Hillbillies Quotes
There are no approved quotes yet for this movie.