The Three Musketeers
(1993)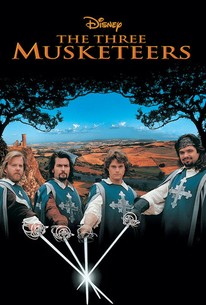 TOMATOMETER
AUDIENCE SCORE
Critic Consensus: Its starry trio of do-gooders may promise to fight "one for all, all for one," but this Three Musketeers is a slickly unmemorable update bound to satisfy very few.
The Three Musketeers Photos
Movie Info
Starring Keifer Sutherland, Charlie Sheen and Oliver Platt as the title characters, Stephen Herek's The Three Musketeers tinkers with the classic Dumas story of a country boy (Chris O'Donnell) who persuades the musketeers to let him join them in their attempt to overthrow Cardinal Richelieu's (Tim Curry) scheme to form an alliance between France and Great Britain. This time around, the story is told as a '90s adventure film, filled with slick photography, fast-paced story-telling and wall-to-wall action.
News & Interviews for The Three Musketeers
Critic Reviews for The Three Musketeers
Audience Reviews for The Three Musketeers
Yes that's actually the abbreviation for the country of Austria you see above there, this movie was a collaboration between the US and Austria curiously enough. This was an extremely loose adaptation of the famous Dumas novel which has of course been adapted many many times now. In fact the reason this was so loose was mainly because it was following hot on the heels of the successful Kevin Costner movie 'Robin Hood Prince of Thieves'. It was (I believe) Disney's first rock n roll historical family flick with a made to measure hit rock song as the main theme to really lure in the young teenyboppers...and women. Everything about this production was a big pre-planned, hopeful franchise and merchandise spewing machine, that might not sound too surprising these days but back in the early 90's it was. Movies weren't really handled like that back then, like they are now, but the wham-bam in your face, rock n roll, romance rollercoaster with Costner changed everything. Sure using rock tunage and not being historically accurate in movies wasn't new but somehow, with that mullet, and that American accent, Costner turned this concept into a near-guaranteed massive money spinner. Disney saw the chance and jumped on-board with this French period adventure, and what better way to top Costner than using the old brat pack of the 80's...well two of them. Yep its errr...the young guns using swords and riding horses...again! Sheen and Sutherland team up with Oliver Platt who magically fits into this team beautifully. Along for the ride is the fresh faced Chris O'Donnell as D'Artagnan who actually does pretty well considering he's a pretty hokey actor truth be told. The entire movie hinges on the cast naturally, more so the main trio of Musketeers who, we the audience, have to like for this to take flight. Luckily the casting of Sutherland and Platt is inspired as they both are charming and highly likable in their roles, especially the chunky Platt. Sheen on the other hand doesn't quite fit the bill here and I'm not so sure how he got the call for this movie. Obviously reuniting of ye olde brat pack again...duh! maybe they wanted to get Emilio too? I can see what Disney wanted to do here and I applaud the effort, for it is a sweet idea, but Sheen just doesn't fit into 17th century France too well. It really is so very obvious that Disney wanted to copy the success of 'Prince of Thieves', look at the bad guys. Good old Tim Curry chews up the scenery perfectly with his big eyes, red flowing attire and devilish goatee doing his best to try and beat Alan Rickman's dastardly Sheriff of Nottingham. But not only that, Disney really takes the biscuit by actually reusing the same actor for the main henchman role. Yes Michael Wincott played Guy of Gisborne in 'Prince of Thieves' and here he plays the main henchman Rochefort! Holy du pain Disney! at least try not to make it so clearly evident sheesh! Never the less despite the blatant idea stealing the movie does look really good with decent production values all the way through. The scenery is stunning throughout with various locations used in the UK and Europe, the sets are amazingly lavish, highly detailed and very authentic looking, costumes look period perfect and again very authentic and weaponry, armour, horses etc...all look spot on. The movie does show how good Disney are at creating worlds, they don't skimp at all and it shows. They might be fast and loose with the facts and original source material but at least it always looks terrific and extremely atmospheric, so big kudos there. As for the action, set pieces and generally 17th century hijinks...well its solid, its exciting for sure...but of course its dumb. Just like the Costner adventure and Disney's later Pirates of the Caribbean flicks the action can get a little out of hand which does spoil the atmos at times. I believe director Herek has clearly tried to copy (or maybe homage) the old Lester Musketeer movies (1973, 74 and 89) with plenty of sword fighting slapstick and stunt tomfoolery. Its not quite as goofy but you do have the obligatory bounding around, jumping off things, dueling on top of things...usually high places, dodging cannon fire, knocking people over with things, knocking people off horses with things, drunken jollifications and generally swinging around from objects. Its not horribly violent of course, no blood, no gore, but bad guys do get killed, you just don't see it or they edit away from the kill. Its that acceptable level of comicbook violence you'd expect from Disney and it works for the movie. Alas the movie does lose impetus because they have played with the story a bit, changed some things, left stuff out and messed up here and there. One such minor but silly mistake I noticed was at the start when all the Musketeers resign their posts as Musketeers, they then proceed to burn their blue tunics. Then at the end of the movie as the Musketeers are summoned to fight they all somehow have their blue tunics back...but they burnt them, did they make new ones just in case they got their jobs back. Another glaring question mark was the fate of Cardinal Richelieu (Curry). The main trio of Musketeers rescue the King from the Cardinals boat, the Cardinal gets punched in the face, falls overboard, and...? That's the last we see of him, no clue if he drowned, went to jail, got executed, got away...nothing. I'm sure by now you get the angle this movie is aiming for, the other movie examples clear that up. The whole entity is more of a fast food, factory assemble line product than an actual proper movie. The director and Disney clearly wanting to sell the romance, good looking boys n girls and light-hearted action rather than tell a proper solid story. End of the day...we all knew that, you could see it, you could smell it a mile off when it came out and you can still tell today. To that end it does at least do what it says on the tin, it offers fun thrills, heroes and villains and a good old fashioned sense of adventure which everyone can enjoy. It still can't beat the Richard Lester movies though, they were flippin' epic!
Phil Hubbs
Super Reviewer
Comedy version of the three musketeers. Good cast.
Candy Rose
Super Reviewer
At times, feeling like a spoof of the whole idea, while also paying a very enjoyable tribute to the charatcters and what is supposed to happen to them. Of course it changes many plot lines from the original stories, some for good and some that fall apart, but it is a very fun movie from start to finish. As young D'Artagnan is on a mission to become a musketeer, he becomes faithful to his musketeer friends and fights along side them throughout the film. It may not have the heart, or genius cheesiness that the 1948 version had, but it wasn't really a masterpiece to begin with. These films are really just popcorn entertainment, and that is why I enjoyed this film. The acting is funny, the story is decently told, action is much improved, but the dialogue still remains cheesy. If you haven't been a fan of the original tales, books, or plays, then you definitely will not find yourself impressed by this picture, but I however am, and I had a lot of fun.
The Three Musketeers Quotes
| | |
| --- | --- |
| Louis XIII: | This world is an uncertain realm filled with danger, honor undermined by the pursuit of power ,freedom sacrificed when the weak are oppressed by the strong. But there are those who oppose these powerful forces, who dedicate their lives to truth honor and freedom. These men are known as musketeers. |
| | |
| --- | --- |
| Cardinal Richelieu: | You of all people should know, that the cardinal does not answer to the laws of men/ |
| Cardinal Richelieu: | You of all people should know, that the cardinal does not answer to the laws of men. |
| Aramis: | Then you'll answer to God. |
| | |
| --- | --- |
| Aramis: | Leaving so soon? |
| Cardinal Richelieu: | I abhor bloodshed. |
| Aramis: | Especially your own. |
| | |
| --- | --- |
| Cardinal Richelieu: | All for one and more for me. |