A Town Like Alice (Rape of Malaya)
(1956)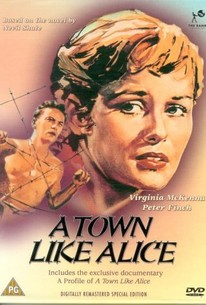 AUDIENCE SCORE
Critic Consensus: No consensus yet.
Movie Info
A harrowing WWII drama that was a huge critical and commercial success in England, this British production was based on a novel by Nevil Shute. During the war, a group of prisoners, mostly women and children, are led by Japanese soldiers on a brutal march through Malaysia. Some die by the roadside and others are sadistically tortured. One of the women, Jean Paget (Virginia McKenna), is befriended by an Australian man who is also a prisoner of war, Joe Harman (Peter Finch). Joe tells Jean about his hometown of Alice Springs, an oasis in the Australian outback. When he steals a chicken to feed Jean and the others, Joe is caught and treated ruthlessly. The Japanese force Jean and the others to march on while Joe is put on a crucifix and left to die. ~ Michael Betzold, Rovi
Critic Reviews for A Town Like Alice (Rape of Malaya)
Audience Reviews for A Town Like Alice (Rape of Malaya)
When I saw the Bryan Brown version of this film, maybe 20 years ago or more, I never considered the possibility that it was a remake of the original. When I stumbled across the original the other night, I could not quite believe that it might be the same movie. Well, it is, and the original is outstanding. I am really feeling as if I've discovered a great find in Virginia McKenna. Two in a row, baby. What a treat. Another truly original look at the effects of World War II.
Lanning : )
Super Reviewer
A Town Like Alice (Rape of Malaya) Quotes
There are no approved quotes yet for this movie.