Gunmen
(1993)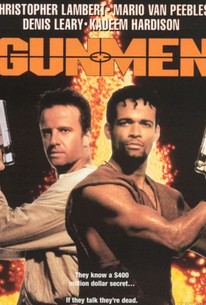 Movie Info
This film opens with a big fat close-up of a sweaty prisoner with a fly (on a string) crawling on his face. The prisoner quickly pops the fly in his mouth and spits it out. Then he leeringly laughs about it to the prisoner next door. Nope. This is not a bad undiscovered Sergio Leone spaghetti western. Rather it is the opening shot Deran Sarafin's Gunmen -- a brainless action film without an original thought in its head. Christopher Lambert is the fly-eater, a man named Dani Servigo, the brother of a dead smuggler and a prisoner in a South American jail, who holds the secret to the whereabouts of $400,000 in stolen drug money. The walls of the prison explode, and Cole Parker (Mario Van Pebbles) makes his entrance. Cole is a mercenary working with the DEA who is in this South American hellhole to mop up the drug traders and to avenge his father's death at the hands of the drug traders. He wants Dani to lead him to the gold. In this love-hate buddy film, the two thrown-together friends/enemies race through the Amazon jungle with ruthless assassins in pursuit, as they all gravitate towards the secret stash of money.
Critic Reviews for Gunmen
Audience Reviews for Gunmen
An absurdly fun and dementedly entertaining action-comedy. A side-splitting, massively double-crossing and wickedly enjoyable thrill-ride of a movie. Christopher Lambert and Mario Can Peebles are a wild, unpredictable and incredibly amusing team, they are having a blast with these characters. An unstoppably fun buddy movie. It has enough action, laughs and screw overs to have you amused through every minute.
A loose remake of 'The Good, The Bad and the Ugly'.
A.D. Villarreal
Super Reviewer
Gunmen Quotes
There are no approved quotes yet for this movie.