Naked
(1993)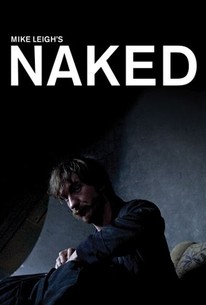 TOMATOMETER
AUDIENCE SCORE
Critic Consensus: Naked lives up to its title with a thoroughly committed performance from David Thewlis that's backed up with some of Mike Leigh's most powerful direction.
Movie Info
David Thewlis' acclaimed performance stands at the bleak heart of Mike Leigh's black comedy Naked. Thewlis stars as Johnny, an intelligent but shiftless young Brit whose bitterness--at women, at the government, at God, and at himself--is all-consuming, causing him to viciously lash out at everyone in his path.
Audience Reviews for Naked
½
An unemployed - but intelligent - social misfit goes on the run to London following a back alley rape, but finds The Capital just as desperate and alienating as his native Manchester. This is one of the hardest films I have ever had to review. Topics such as urban alienation, career-choice unemployment, leeching, homelessness, drug taking and sexual violence would normally send me running for cover; but what we have here is so well constructed and so skilfully acted that it transcends it own headline topics. This is a classic case of car-wreck film making: You don't praise or celebrate much, yet it is deeply fascinating and even hypnotic. People are tap dancing on the edge of a metaphorical cliff - some are there of there of their own free will. Director Mike Leigh's semi-improvisational style doesn't always work, but here it really delivers something unique. You feel that you are watching real life even though too much happens in too short a time period for that to be the case. This is a wandering odyssey film and features a central performance - by David Thewlis - that ranks along the best ever witnessed in cinema. How the Oscar people could have (totally) turned their back on a performance as a good as this puzzles; although the film and actor won prizes in Cannes and New York. This is the first film I have ever seen that takes on sexual coercion in a head on fashion. People that have put themselves in a chemical or social situation where someone has something over them. The greasy upper crust landlord (Greg Cruttwell) might seem over-the-top to many but I know a few people actually like that! (For the record his actions would be deemed illegal in real life - if you have seen the film.) What happens to the on-screen people the day after this film ends? Has anything really changed? For Johnny - our central anti-hero - it will be just another day to duck and dive, avoid all work and wind people up using his extensive back reading.
Cassandra Maples
Super Reviewer
'Naked' is certainly a performance driven film, with very little storyline and as such is an insight into the main character's (David Thewlis) ways, charms, crimes and philosophys as twisted and as controversial for it's time as it might be.
Lady D'arbanville
Super Reviewer
A dark, disturbing, and almost overbearingly bleak look at a drifter in England who crashes at his ex-girlfriend's flat to escape those that will be after him after he commits a heinous act. Definitely not a film for everybody, but one that is full of energy thanks to David Thewlis's incredibly realistic performance as a man who has no where to go. It's a crime Thewlis wasn't nominated for Best Actor here, he's really amazing in this film. While the paralleling of Thewlis's character with another monstrous one isn't as neatly executed as one would expect, this is still a worthy film that gives you an intense perception of the underbelly of certain English societies. Some of the dialogue is exceptional as well, some of the conversations Thewlis strikes up with the people he meets randomly is actually pretty riveting.
Dan Schultz
Super Reviewer
Naked Quotes
| | |
| --- | --- |
| Louise: | Well, don't know if I want to get married, but I wouldn't say no to a proper relationship. |
| Sophie: | What is a proper relationship? |
| Louise: | Livin' with someone 'oo talks to you after they've bonked you. |
| Sophie: | I don't know what they want from you 'alf the time. What they start off liking you for they end up hatin' you for. Don't like you if you're strong, don't like you if you're weak; hate you if you're clever, hate you if you're stupid. They don't know what they want. |
| | |
| --- | --- |
| Johnny: | 'Have you ever thought, right... I mean, you don't know...but you might already have had the happiest moment in your whole fucking life...and all you've got to look forward to is sickness and purgatory?' |
| Johnny: | Have you ever thought, right... I mean, you don't know...but you might already have had the happiest moment in your whole fucking life...and all you've got to look forward to is sickness and purgatory? |
| | |
| --- | --- |
| Johnny: | You think you can recapture your youth by fucking it. You don't wanna fuck me. You'll catch something cruel. |
| | |
| --- | --- |
| Maggie: | You ever seen a dead body before? |
| Maggie: | Have you ever seen a dead body? |
| Johnny: | Only me own |