White Cargo
(1942)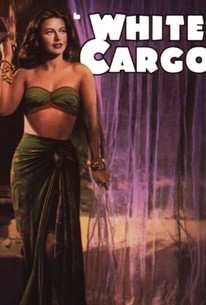 AUDIENCE SCORE
Critic Consensus: No consensus yet.
Movie Info
The once-notorious theatrical chestnut White Cargo was toned down for public consumption in this 1942 MGM-ized adaptation (the property had been previously filmed in England in 1929). More sullen than sexy, Hedy Lamarr stars as Tondelayo, the libidinous African native girl who nearly drives rubber-plantation manager Langford (Richard Carlson) to ruin and madness. Though warned by local English magistrate Witzel (Walter Pidgeon) not to "mammy-palaver" with the natives, Langford falls hopelessly in love with Tondelayo, marrying her in defiance of convention and anti-miscegenation laws. Alas, the restless Tondelayo soons tires of married life, just as Langford wearies of his bride's near-manic possessiveness. She tries to come on to Witzel, who'll have none of it, then plots to rid herself of her husband by systematically poisoning him during a bout of fever. A studio-imposed prologue and epilogue set in the 1940s was inserted to assure the audiences from the outset that Langford would eventually wise up and divest himself of the troublesome Tondelayo. Though corny and campy in the extreme, White Cargo is one of the films for which Hedy Lamarr is best remembered.
Critic Reviews for White Cargo
Audience Reviews for White Cargo
Silly jungle junk but Hedy is ravishing. If that's enough for you this is worth watching once but only once.
White Cargo Quotes
There are no approved quotes yet for this movie.