Joshua Tree (Army of One)
(1993)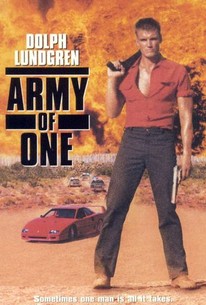 AUDIENCE SCORE
Critic Consensus: No consensus yet.
Movie Info
Dolph Lundgren and George Segal star in this action thriller in which a man who was convicted of a crime he didn't commit escapes from prison and takes a woman hostage, not knowing she's a police officer. Meanwhile, the escapee is trying to set a trap to get revenge against the corrupt detective who sent him to the big house. The supporting cast includes Ken Foree and Bert Remsen. Also shown under the title Joshua Tree.
Critic Reviews for Joshua Tree (Army of One)
Audience Reviews for Joshua Tree (Army of One)
½
"Army of One" is an actioner obviously made by people who truly love the genre. It was directed and produced by Vic Armstrong, stunt co-ordinator and second unit director on films like Total Recall, Starship Troopers and the two latest Bond-films (Tomorrow Never Dies and The World Is Not Enough). This man is responsible for some of the best action sequences ever made so he obviously knows what he's doing. The film was written by Steven Pressfield. He co-wrote Steven Seagal's first film, Above the Law, as well as Freejack. Based on this film, he might just be the perfect writer for tough action films. He successfully takes a basic concept (a man convicted of a murder he didn't commit sets out to find the true killers and get his revenge) and elevates it above similar films with his characters, scenes and dialogue. He takes the film and it's subject matter with just the right dose of self-irony but never lets it become a parody. The dialogue flows nicely and occasionally there are some truly classic lines (for example, Alfonso: "You're not a very nice person. You've hurt several people." Lundgren: "I never said I was running for pope"). This is quite a bit smarter than your average actioner. As I said, the plot is formulaic (and fans like myself want an action film to have a formulaic plot), but the characters and dialogue are interesting. Dolph Lundgren has the right stuff for an action hero. He's got the looks and the voice and he knows his way around action scenes. But it's George Segal and Beau Starr as the nagging duo, who really steal the show. Of course, there's the beautiful woman (Kristian Alfonso) as Lundgren's sidekick but they don't portray her as a helpless victim. Instead, she's a cop and more than able to take care of herself. Luckily, she does still wear tight jeans (Lundgren even notices this and teases her about it!) and there's the obligatory love scene. The scene where Lundgren and Alfonso check in a hotel is a classic! Alfonso immediately takes a shower and even asks if she has enough time to wash her panties(!). Alfonso uses a body double who turns around and around for the camera to the extent that the scene is almost comical. This scene is so gratuitous that it's hard not to like it. Because the film shows so much class in other scenes, it becomes clear that this scene isn't just here to fill time and show T&A. It's here because an action movie like this _always_ has gratuitous nudity. It's one of the trademarks of this masculine genre and if you love the genre, you will include a scene like this. All this is nice and well but what really counts is the action. And the action here is absolutely breathtaking! The action-scenes are choreographed so beautifully that I'm still impressed while watching them although I've seen the film for over 30 times. First, there's a major shoot-out during which Lundgren kills probably over 30 guys using his fists, a shotgun and two handguns (this ain't John Woo and it doesn't really try to be but the fans of his style will probably still like this). When he runs out of bullets, he just picks up another gun from the floor. Once again, this scene is _not_ a parody but it _is_ so over-the-top that it obviously isn't meant to be taken too seriously. Anyway, there are some great stunts here and Armstrong has directed the scene flawlessly. All this amounts to one of the coolest shoot-outs in recent history and one which has since been copied in countless b-actioners. Then there's the car chase with a red Ferrari and a black Lamborghini. Phenomenal! The score by Joel Goldsmith is brilliant. There's a strong theme, atmospheric background music for the opening scenes and really energetic music during the action scenes. Also the cinematography by Daniel L. Turrett works well. And even the acting is pretty good. As I said, Dolph Lundgren makes a good hero, Alfonso has the looks and Segal and Starr are responsible for the film's class and laughs (there aren't that many laughs in the film but when there are, they work). "Army of One" is a film which might seem like just another action movie but as a true fan of the genre, I recognize when the director is just filming something for money and when he's passionate about his work. And this is clearly a film made with passion for the genre. This isn't "a story that needs to be told" nor is this anything original or groundbreaking as far as the story goes but this is definitely one of the best action films made in the 90s and a must-see for fans of the genre. I can't recommend this highly enough.
David Ladd
Super Reviewer
½
Cool action-packed film with Dolph Lundgren as a wrongly accused man who escapes from prison to exact revenge on the man who put him here.
Dean McKenna
Super Reviewer
Joshua Tree (Army of One) Quotes
There are no approved quotes yet for this movie.