Sirens
(1994)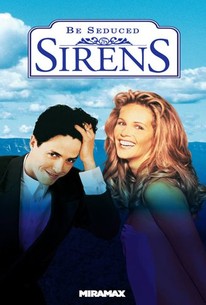 Movie Info
Sex, religion, and morality are the key ingredients in this Australian comedy set in the 1930s. Rev. Anthony Campion (Hugh Grant) is a liberal, forward-thinking Anglican priest who is sent on an unusual assignment. Norman Lindsay (Sam Neill) is a popular and highly controversial artist whose paintings often feature voluptuous nude women; his latest major exhibition is to feature a work called The Crucified Venus, which depicts a naked female impaled on a cross. Outraged, the Anglican Bishop of Sydney wants Campion to visit Lindsay and persuade him to remove the work from his show. Rev. Campion and his wife, Estella (Tara Fitzgerald), travel to Lindsay's Blue Mountain estate, where the artist is hard at work with a bevy of lovely nude models in tow, including Sheela (Elle MacPherson), Giddy (Portia de Rossi), and Pru (Kate Fischer). The Reverend is quietly appalled by the open sensuality of Lindsay's household, and Estella is mortified; they're even more upset when Lindsay calmly but firmly refuses to remove The Crucified Venus from his show. However, the longer the Campions stay with Lindsay in hopes of changing his mind, the more they find themselves drawn into the sensuous pleasures of his world. Sirens was based on an actual incident and Norman Lindsay was a real artist of the period (his life was depicted in the film Age of Consent, in which he was played by James Mason). But audiences were probably less interested in art and cultural history than in the opportunity to see supermodel Elle MacPherson appear undraped; she also gives a fine and charming comic performance, as do Hugh Grant and Tara Fitzgerald.
Critic Reviews for Sirens
Audience Reviews for Sirens
½
Lots of gratuitous animal and tit shots in Australia.
Ross Collins
Super Reviewer
A strange sort of erotic/period drama. A young conservative couple go on a trip to Austrailia. Where the peope around them and enviroment lead them to be less sexually repressed. Most well known for a nude Elle Macpherson.
½
Cool and great moments of 'sexual liberation'. Three naked models, Elle Macpherson, Kate Fischer and Portia De Rossi, are really hot.
Dean McKenna
Super Reviewer
Sirens Quotes
There are no approved quotes yet for this movie.