Bad Girls
(1994)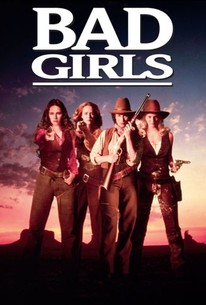 Movie Info
Madeleine Stowe, Mary Stuart Masterson, Andie MacDowell, and Drew Barrymore are the stars of this Western whose main gimmick is making heroes into heroines. They all start out as prostitutes, as Cody (Stowe) shoots a drunken colonel who attempts to molest Anita (Masterson). She is about to be lynched for defending her friend when the other "bad girls" ride in and rescue her, pursued by detectives. The rest of the film follows their adventures as they get caught up in hostage situations, bank robberies, shootouts, and romantic interludes with handsome young cowboys with never a hair out of place or an unsightly smudge of Western dust. Amazingly, all four former prostitutes are able to ride, shoot, rope, and fight as well. Bad Girls is not likely to be thought of as a realistic view of how women lived in the Old West. ~ Don Kaye, Rovi
Critic Reviews for Bad Girls
Audience Reviews for Bad Girls
"Bad Girls wasn't exactly bad enough for me. I was expecting some bad-ass chicks stealing and causing chaos in some small towns. I guess they did a small amount of that, but not enough for my tastes. I'm not a big fan of Westerns in the first place. But even with the so and so plot and it being a Western, I still enjoyed it. I like Drews character, Lilly the most. She wasn't scared to get crazy. I might watch this again. Maybe if I was to catch it on T.V."
♥˩ƳИИ ƜѲѲƉƧ♥
Super Reviewer
½
So this is the female version of 'Young Guns' haha, sounds cliche and this is totally, every one in the book checked. To be fair you knew this was coming ever since they made the brat pack western, there had to be a posse of ladies. The film looks fine with fair costume, location and stunts but the plot is so average and with a mixed cast of good and bad actors it just doesn't work, how Andie MacDowell gets work in films is beyond me. Bit of a flop on release and panned by critics and I can see why really, I dunno why its called 'Bad Girls' either as the main four are hardly bad or even outlaws, maybe naughty.
Phil Hubbs
Super Reviewer
½
I like the idea of the rebellious women in such a male dominated era and the toughness of Madeline Stowe here, it's not a film that holds your interest too well.
Lady D'arbanville
Super Reviewer
Bad Girls Quotes
There are no approved quotes yet for this movie.