The Shadow
(1994)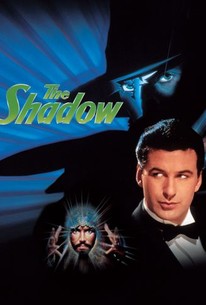 TOMATOMETER
AUDIENCE SCORE
Critic Consensus: Bringing a classic pulp character to the big screen, The Shadow features impressive visual effects, but the story ultimately fails to strike a memorable chord.
Movie Info
A crime fighter created in the 1930s and popularized in movies, pulp novels, and a radio show starring a young Orson Welles, The Shadow came back to life in 1994 in this slick, well-cast production. Alec Baldwin stars as Lamont Cranston, a murderous opium dealer reformed by a Tibetan mystic, who teaches him how to use his keen mental powers to manipulate others. As penance for his past misdeeds, Cranston masquerades as a degenerate New York City playboy by day and secretly plays the heroic Shadow by night, staving off evildoers with a network of agents and a cab-driving sidekick (Peter Boyle). A greater challenge arrives when Cranston must fight Shiwan Khan (John Lone), the final descendent of Genghis Khan, who has received training from the same Tibetan master who instructed Cranston. Shiwan plans to use atomic weapons to take over New York and then the world. At the same time, Cranston meets socialite Margo Lane (Penelope Ann Miller), and, although he's instantly enamored of her, he discovers that her psychic abilities render his secret identity vulnerable. The Shadow was directed by former music video creator Russell Mulcahy, whose feature film debut Highlander (1986) was a cult classic.
News & Interviews for The Shadow
Critic Reviews for The Shadow
Audience Reviews for The Shadow
½
Pros: *Alec Baldwin does really well in the lead role. He manages to be both charming and subtly menacing, especially in scenes where he is using just his voice to scare the villains. This movie made me realize that Baldwin would have made a good Batman if he was ever given the chance. *Lamont Cranston (aka. The Shadow) is a very interesting protagonist (at least conceptually) because he is a man who used to be an evil individual but is now trying to atone for his past sins by using his own inner darkness (his shadow) to fight evil. It's a nice backstory and the scenes in which Cranston uses his mind-manipulation powers to make people forget things adds nice layers of gray to the story. *The art direction and dark film noir-ish set designs of 1930's New York are impressive. *Jerry Goldsmith's score is very good and fits the dark dramatic atmosphere that the film was going for. *Russell Mulcahy still provides his distinct eye for visuals and clever scene transitions. *There are some pretty funny lines of dialogue. Cons....or Khans: *The storyline is very generic and un-eventful. *It doesn't help that The Shadows origin story is quickly glossed over through the combination of a rushed opening prologue and an ensuing text crawl. The whole affair feels like the second movie in a trilogy because it does the whole "hero fights an evil version of themselves" storyline, which doesn't work when we don't really know our hero. I personally wished this movie had been a "Batman Begins" type storyline to establish Cranston's origin and his early days as The Shadow. That way we would have been able to actually get to know him as a character, grow attached to him and understand his struggle. As it is, Cranston's internal struggles are rarely touched upon. Due to this I couldn't form an emotional connection and this applies to every character in this movie. *Ian McKellen and Tim Curry are sinfully underutilized. *There are not too many action scenes involving The Shadow and they are not too impressive. *John Lone (Shiwan Khan) is entertaining whenever he is sharing dialogue with Baldwin, otherwise Khan sadly ends up feeling like a stock villain. His plan is extremely silly and his final confrontation with The Shadow is extremely underwhelming and baffling. *Penelope Ann Miller ends up giving the weakest performance as Margo Lane. It doesn't help that some of her dialogue is pretty bad and her line delivery is even worse. *Some of the instances of CGI are okay (Ex. The dagger) but other times they are pretty creaky. Overall: This is a movie that seemed to have all the right ingredients: a charming leading man, a supporting cast filled with respected character actors, great set designs, a dark film-noir atmosphere, and imaginative directing. But due to weak action, underdeveloped characters, and an emotionally un-involving storyline, this comic book adaption becomes instantly forgettable.
Christopher Heim
Super Reviewer
Good looking, undoubtably, as a mysterious hero with mysterious powers fights against an ancient evil, but the delivery is a tad watery, and so this should have been first in a series was ultimately dropped. Too bad.
Kevin M. Williams
Super Reviewer
In true 30's period style and setting this comicbook/pulp adaptation visually looks awesome and captures the atmosphere of the era perfectly. If you think along the lines of 'Dick Tracy' and 'The Rocketeer' then you will get an idea of the vibe going on here. Even though the budget for 'The Phantom' was actually bigger than this film, director Mulcahy's film certainly looks the slicker and more realistic. The character of The Shadow isn't anything really special to be honest, its just a guy in a cloak with a fedora type hat on and he carries two guns. He always did seem like a poor man's Batman in all honesty, not too distant from the Phantom or Darkman actually. The main difference with this guy is the fact he does actually have some special super powers. He can cloud men's minds (what about women?) with a kind of spiritual hypnosis that blinds people to his presence...accept for his shadow oddly enough, hence his name. Oh and he's pretty snazzy with the two guns also. This character fits his dark little world perfectly in both his crime fighting form and his alias as a rich good looking 'Bruce Wayne' type. His lair has a neat little secret entrance just like Wayne Manor to the Batcave and he lurks around in the shadows quite nicely. The plot is an odd one, Baldwin starts off as a bad guy in Tibet after succumbing to his darker side not long after WWI (dunno why). He is then kidnapped by some wise holy man who for some reason will train Baldwin to be a good guy, unsure why really, but in the end he goes back to New York and begins his Batman-esque lifestyle. Then some other magical fellow turns up to challenge Baldwin or try and get him to join with him so he can gain world domination. This bad guy happens to be a distant relation of Genghis Khan, for some reason we have another crime fighter who must face off against a Khan. 'Hellboy' had to face off against the actual Genghis Khan, weird how Khan seems to pop up in these fantasy films. As you can guess from this story idea there is a lot of mystical hocus pocus going on throughout and the plot is slightly convoluted to be frank. Really the film excels with its visuals, a lovely looking old fashioned 30's New York complete with dated cars, store fronts and atmospheric swirling mist, the invisibility effects, shadow effects, hands on makeup and a surprisingly cool looking outfit for the Shadow (did someone pinch ideas for 'Dark City' here?). The sets are really well designed throughout too and look stunning I must say, beautifully presented and created, the sets are obvious but that adds to the charm and realism plus it works much better than CGI. Not too sure about the far East look for Baldwin's character though, wig was a bit crappy. There is of course some CGI present throughout which tends to swing from being reasonable (looking back now), to a bit hokey in places, bit plastic looking. Of course back in the day the effects were relatively special to a degree. The movie is great fun and looks slick with a good casting choice in Baldwin for the main heroic/bad guy lead. He looks perfect for the part of 'Cranston' the playboy and actually could well have been a good 'Bruce Wayne' too I'm sure, a bit gruff maybe. This is really how 'The Green Hornet' should of been approached instead of the geeky spoof-like farce it was. Shame 'The Shadow' failed at the box office as this is another decent period superhero flick adaptation which is uniquely fresh plot wise but visuals wise was maybe more familiar. You just gotta look past the solid but cliched appearance. Gotta love that classic film poster though huh, just like 'The Rocketeer' they really capture the essence of the old style crime caper and dare devil hero aspect. Lovely combination of colours and art work, very striking.
Phil Hubbs
Super Reviewer
The Shadow Quotes
| | |
| --- | --- |
| Shiwan Khan: | In three days, the entire world will hear my roar, and willingly fall subject to the lost empire of Shan Kahn. That is a lovely tie, by the way. May I ask where you acquire it? |
| Lamont Cranston/The Shadow: | Brooks Brothers. |
| Shiwan Khan: | Is that mid-town? |
| Lamont Cranston/The Shadow: | 45th and Madison. You....are a barbarian. |
| Shiwan Khan: | Thank you! We both are. |
| | |
| --- | --- |
| Lamont Cranston/The Shadow: | "Next time you get to be on top." |
| Lamont Cranston/The Shadow: | Next time you get to be on top. |