Quicksand (1950)
(1950)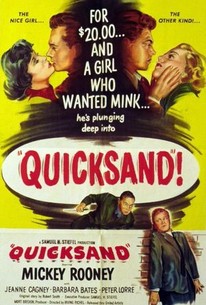 AUDIENCE SCORE
Critic Consensus: No consensus yet.
Movie Info
Mickey Rooney, with his kid roles and musicals behind him, went for a major change of image in this harrowing film noir. He gives what many consider to be the best performance of his career as Danny Brady, a well-meaning grease monkey whose life is destroyed in less than a week. Danny finds himself short of cash when he's supposed to take out Vera (Jeanne Cagney), a waitress whom he's just met who works at a hash-house. He borrows 20 dollars from the cash register, planning on paying it back with 20 dollars that a buddy owes him the next day, but the friend doesn't turn up. To get the 20 dollars, he buys a 100-dollar watch on a payment plan and then hocks it for the 20 dollars, but a detective picks up on the purchase and threatens to have him jailed if he doesn't pay the full 100 dollars immediately; desperate to raise the money, he robs a drunken bar patron of his bill-fold. His money problems seemingly behind him, Danny takes Vera out with the extra cash, but gets into a fight with her former boss, Nick (Peter Lorre), who picks up a clue that Danny did the robbery. Nick pressures Danny to provide him with a new car (a hard-to-get commodity in 1950) from the garage where he works, in return for keeping quiet. Danny steals the car and turns it over to Nick, but he and Vera decide to get even by robbing Nick's safe that night -- now they've got 3,600 dollars, which they split. But Danny's boss, Mackey, tells him he knows who stole the car, and wants either the car back or the full value, or he'll turn Danny in to the police. Vera has already blown her share on a mink coat, and he goes back to Mackey with what he has, 1,800 dollars. Mackey takes it and proceeds to call the police. Danny attacks him and leaves him for dead. Danny goes on the run, convinced he's wanted for Mackey's murder. Danny runs into Helen (Barbara Bates), a nice girl that he was dating and then dumped, and they end up fleeing together, hijacking a car and holding an innocent man at gunpoint. Impending tragedy seems to loom up even larger when they cross paths with police officers on a manhunt. Realizing that Helen has been good to him, he ends up on the run alone, with a gun in hand, as the law closes in. ~ Bruce Eder, Rovi
Critic Reviews for Quicksand (1950)
Audience Reviews for Quicksand (1950)
½
Mickey Rooney is pretty good (providing one can divorce oneself from his better known persona as a Disney tour guide cliché) as a chump whose one baby mistake snowballs into a swamp of troubles. Peter Lorre is also good as a carnival owner who's looked at one too many tough guys and still is not impressed. They both put their own money into this decent noir about the predictable payoff for cutting corners in life. Barbara Bates brings home the bacon too as the girl-gone-wrong.
Kevin M. Williams
Super Reviewer
½
the only mickey rooney movie i like and the only movie i didn't find him abrasive in. as a matter of fact, he could be quite talented, considering also his performance in one episode of twilight zone.
Veronique Kwak
Super Reviewer
Quicksand is a classic example of what I like to call a Damn Shame. It has great direction, great photography and a great supporting cast. But sticking Mickey Rooney as the lead in what had all the possibilities to be considered one of the great examples of film noir is like sticking a moose-hunting rookie governor made out of turkey giblets in your VP spot for your presidential run. Easily one of the biggest casting mistakes you've never heard of. Not bad to check out if you can get past the war crime casting but Rooney was just to weird, annoying and above all, unbelievable. But the scene where Rooney fights Peter Lorre was damn funny. It was like watching two trannies fight.
Michael Gildea
Super Reviewer
Quicksand (1950) Quotes
| | |
| --- | --- |
| Dan Brady auto mechanic: | I don't get it, why do you want to help me? When things were going good all I ever did was give you the runaround - now that I'm in a jam..., why don't you get smart and stay away from me? |
| Dan Brady auto mechanic: | I don't get it, why do you want to help me? When things were going good all I ever did was give you the runaround - now that I'm in a jam... why don't you get smart and stay away from me? |
| Helen: | I've been away from you too long - and it isn't any good! Don't you think that I know that I'm dumb to throw myself at a guy that doesn't want me?; don't you think I know I'm a fool to wait at a street corner for an hour just waiting for you to come out of a door? I know all that; but I can't help it. I fell in love with you the first time I saw you, Dan. |
| Helen: | I've been away from you too long - and it isn't any good! Don't you think that I know that I'm dumb to throw myself at a guy that doesn't want me?; don't you think I know I'm a fool to wait at a street corner for an hour just waiting for you to come out of a door? I know all that; but I can't help it. I fell in love with you the first time I saw you, Dan. |
| Dan Brady auto mechanic: | I'll drive you home. |
| | |
| --- | --- |
| Vera Novak cafe cashier: | Give me a nickel, Danny. I'll show you how to beat this game. [After less than a minute at a pinball machine, Dan is highly impressed.] One ball. Hey Nick, pay me! I hit the jackpot. |
| Nick Dramoshag Penny Arcade Owner: | Here. [Nick gives Vera a couple dollars as a prize - then puts up an 'Out of Order" sign.] That's all for you. |
| Dan Brady auto mechanic: | Hey, wait a minute. [Dan flips the sign back out of sight.] Go ahead honey, play it as much as you want. |
| Vera Novak cafe cashier: | Take it easy, Danny; I can handle Nick myself. I used to work here, didn't I Nick? |