Angels in the Outfield
(1994)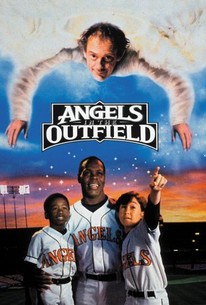 TOMATOMETER
AUDIENCE SCORE
Critic Consensus: A queasy mishmash of poignant drama and slapstick fantasy, Angels in the Outfield strikes out as worthy family entertainment.
Angels in the Outfield Photos
Movie Info
Updated from the 1951 film of the same name, Angels In The Outfield takes liberties with the original to bring sentimental values to a modern setting. Roger (Joseph Gordon-Levitt) is a foster child whose irresponsible father promises to get his act together when Roger's favorite baseball team, the California Angels, wins the pennant. The problem is that the Angels are in last place, so Roger prays for help to turn the team around. Sure enough, his prayers are answered in the form of angel Al (Christopher Lloyd), and, before you know it, the Angels' bitter manager (Danny Glover) is watching in amazement as his team starts making the plays -- with the help of angels visible to the audience only as glowing special effects.
Critic Reviews for Angels in the Outfield
Audience Reviews for Angels in the Outfield
½
From the first shot to the last the strings on the puppet are always clearly in evidence in this popular Disney release I only now got around to viewing. Its cool that I did wait so long: would I have recognized so many up and coming stars (Adrien Brody, Matthew McConaughey - with his shirt off, natch, Joe Gordon Levitt, for instance) otherwise? But the cheese is laid on pretty thick, even for a family film combining baseball, orphans, and faith in God. Still, like a puppy who pees on yer new living room carpet, it's hard to be too mad about it
Kevin M. Williams
Super Reviewer
Angels in the Outfield is a dull family film that is far too sentimental to really stand out among other films and isn't entertaining in the long run. This is a boring film with a lazy cast, and dreadful performances. This is among the worst family films that Disney has produced. I thought that the film lacked anything to capture your interest and it was a total misfire. Sometimes, inspirational, feel good films tend to be lacking significantly, and Angels in the Outfield is one of those movies. I was bored with the plot, and the cast just didn't deliver any memorable performances. The material, although good natured, just fails to really engage the viewer, and in turn it becomes a highly forgettable feel good film, where other films are much better and stand out more. This is a stale train wreck of a movie, and by the time the credits roll, you want more out of the film. However, the script is flawed, has a lazy, predictable story and cheesy performances. This film plays out more like a bad joke, and it just doesn't accomplish what it sets out to do. There are far better films of this caliber out there, and this one is just not worth seeing. This film could have been good, but the filmmakers go overboard on its sentimental overtones, which never works, and ends up falling apart far too quickly. Watch something else instead; you'll be glad you did. Angels in the Outfield is a misfire of a family film, one that should be forgotten about. This was a disappointing an awful and the only entertaining part are seeing the credits roll. This film just lacks any shroud of originality, and peppers the plot with ever genre cliché that you can think of. Avoid this film, and watch Toy Story, Casper or The Sandlot instead. This family film is bad and pointless.
½
a lame and long intro and a plot that will make you sleep the only redeemable factor of this movie is Christopher lloyd but the rest of the movie will put you to sleep
Michael Edwards
Super Reviewer
Angels in the Outfield Quotes