Only You
(1994)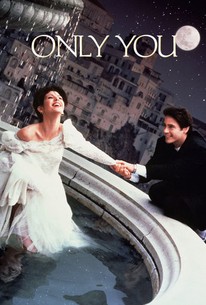 Movie Info
A woman throws caution to the wind in the pursuit of the man of her dreams -- whom she's never met -- in this romantic comedy. Eleven-year-old Faith (Tammy Minoff) and her cousin Kate (Jessica Hertel) are playing with a Ouiji Board when Faith asks who she will marry -- the magic oracle answers "DAMON BRADLEY," and Faith is convinced that she will one day meet this ideal love. Fifteen years later, Faith (Marisa Tomei) has yet to meet her perfect man and has settled for Dwayne (John Benjamin Hickey), a sweet but boring foot doctor whom she's engaged to marry, with Kate (Bonnie Hunt) helping her plan the festivities. The day before the ceremony, Faith gets a call from one of the groom's friends, who won't be able to attend because he's travelling to Italy instead -- and his name is Damon Bradley. Convinced that fate is trying to tell her something, Faith hops on the next flight to Venice, where she searches for the elusive Damon, and along the way meets the charming Peter Wright (Robert Downey, Jr.). This was Tomei and Downey's second romantic pairing, following their roles in the biopic Chaplin.
Critic Reviews for Only You
Audience Reviews for Only You
½
Going through some old DVDs and looking to cull the collection. This isn't one that will be going. Quite enjoyed it. Faith is borderline psychotic, but Marisa Tomei plays her so nicely you can almost buy her over the top behaviour. I'm not sure the movie entirely works honestly, but it has a decent cast and the Italian scenery is beautiful. Nice chick flick. However, I can tell middle age is creeping in on me, because the scene at the end, all I could think was "what a jerk, with his feet up on the back of someone's seat!" Obnoxious is not hot. But Marisa was really the one who makes this movie work.
Nicki Marie
Super Reviewer
½
A love story written in the stars Very good movie! Marisa Tomei and Robert Downey Jr. did an amazing job. The story was very easy to follow even though it has a very unrealistic theme. A very nice romantic comedy with a destiny ending. Destiny. Faith (Marisa Tomei) believes that two soul-mates can be united if they find each other. From the Ouija board, she has found the name of her missing half, and it is D-A-M-O-N B-R-A-D-L-E-Y. Later, at the carnival, the fortune teller sees the name Damon Bradley in the Crystal Ball and Faith is convinced. She is told that "You make your own destiny,...don't wait for it to come to you", but she is looking for Damon. 14 years later, she is engaged to a dull podiatrist and plans to marry until she gets a call from one of his classmates who is on his way to Venice, Italy. The classmate is Damon Bradley. Rushing to the airport to see her soul-mate, she misses him and the plane, but decides, then and there, to go after him. So Faith and her sister-in-law Kate both board the next plane for Italy hoping to find her Damon.
Robert Downey Jr shows his passionate side in this romantic comedy about a young woman, Faith Corvatch (Marisa Tomei), who believes that the love of her life is a man she's never met and she travels to Italy in pursuit of this man she thinks is her destiny.
Only You Quotes
| | |
| --- | --- |
| Giovanni: | To almost love a woman, and then lose her; enjoy the pain. . . |
| Giovanni: | To almost love a woman, and then lose her; enjoy the pain... |
| | |
| --- | --- |
| Peter Wright: | Honey, don't waste you life with someone you don't love. |
| Faith Corvatch: | Who says I don't love him... |
| Peter Wright: | Ok, Fine marry your podiatrist... |
| Peter Wright: | Okay, fine marry your podiatrist... |
| | |
| --- | --- |
| Peter Wright: | You are nut's about me! We are made for each other! |