Midnight
(1939)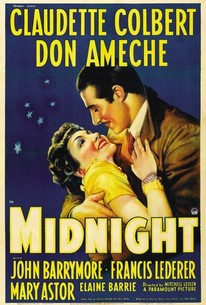 Movie Info
Midnight, written by that matchless Hollywood pair Billy Wilder and Charles Backett, is that rare Hollywood bird: a comedy where practically everything works. Poverty-stricken Claudette Colbert is stranded in Paris with only an evening gown to her name. She is hired by aristocrat John Barrymore to pose as a Hungarian countess, to divert the gigolo (Francis Lederer) who is wooing Barrymore's wife (Mary Astor). Don Ameche is a sarcastic cabdriver who befriends Colbert and watches the whole spectacle at the Barrymore home in disdain: What he isn't telling anyone (until the very end at least) is that he is a Count in disguise. The farcical complications come thick and fast, culminating in a less funny but still entertaining courtroom scene, in which the never-married Ameche and Colbert must request a divorce! Deftly skirting the censorship strictures of the period, Midnight is a peak-form product from Hollywood's finest year, as well as the high water mark in the career of director Mitchell Leisen.
News & Interviews for Midnight
Critic Reviews for Midnight
Audience Reviews for Midnight
The script is everything in film. Coming from one of maybe the greatest years in the old Hollywood studio system comes this delicately prepared light lunch for a summer's day of a film, pure escapist comedy. A down-on-her-luck, been-around-the-block golddigger meets the man of her dreams (and he's barely making it) right as her chance for a big payday materializes. What will she do? The writing team of Billy Wilder and Charles Brackett dreamed up this witty concoction where everyone has a certain native intelligence, and filled it with plenty of what their target audience wanted to see, which is mainly that being rich wasn't everything. So you get your lifestyles of the rich and famous, yes, but portrayed as boredom on ice, and lacking the real connection and passion that a "regular life" supposedly brings: a real crowd pleaser. Mitchell Leisen knew the type of fabulous rich we imagined and, for his part, portrays that spot on. It does look good. The stars are attractive, particularly Colbert, Ameche, Barrymore, Astor and, in a whimsical small role, Monty Woolley. Makes one wish for the old days.
Kevin M. Williams
Super Reviewer
½
A few too many screwball twists in this one. Fun in parts. Wilder maintained Leisen messed up his script.
Bob Stinson
Super Reviewer
½
This movie had a really funny story, but it gets predictable and a little long towards the end. Overall, I enjoyed the movie, but it could be better.
Midnight Quotes
There are no approved quotes yet for this movie.