Titanic
(1953)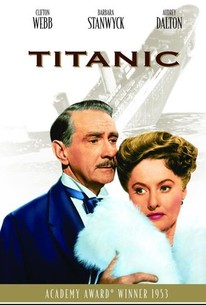 Movie Info
The 1912 sinking of the luxury liner Titanic is used as a backdrop for a several fictional subplots, chief of which involves snooty socialite Clifton Webb and his wife Barbara Stanwyck. Stanwyck has booked passage on the ill-fated passenger ship with her daughter (Audrey Dalton) and son (Harper Carter), leaving Webb far behind. Webb manages to board the ship at the last minute, and discovers that Stanwyck plans to divorce him; she further informs him that he is not the father of their son. When the Titanic sideswipes an iceberg and begins its slow descent in the Atlantic, the women and children are put on the lifeboats while the men stay behind to face death (except for cowardly cardsharp Allyn Joslyn, who disguises himself as a woman). The formerly class-conscious Webb acts with conspicuous bravery, seeing to it that several steerage passengers are ushered to safety. He is reunited with his son, who has given up his lifeboat seat to an elderly woman. All misunderstandings swept aside, Webb and his son face their final moments on earth together. In the film's best moment, a miniature recreation of the Titanic is seen sinking beneath the waves as the survivors watch from their lifeboats in numb horror. ~ Hal Erickson, Rovi
Critic Reviews for Titanic
Audience Reviews for Titanic
½
While not the darling of the new millennia, this version shines as a family drama involving (like Cameron's popular outing) class warfare. Dad (Webb) wants children to rise in social circles. Mom (Stanwyck) longs for the honesty of the lower classes (hey! did Cameron crib from here?!), but has a secret to tell Pop about that just might be hot enough to melt the iceberg coming up. But the stage for all this drama (as we all know) famously sinks. Will there be any resolution? While the film is as obvious as all get out, it is still entertaining.
Kevin M. Williams
Super Reviewer
½
I saw this version of 'Titanic' after I saw the James Cameron version. It is much more subdued - and displays the men of the Titanic as much more heroic than the later version.
½
Compelling, far better than the most recent version. Clifton Webb and Barbara Stanwyck are outstanding as a wealthy couple whose marriage is disintegrating and the love story is sweet and unlike the other version makes sense since both characters are from the same class as would be natural at that time. The ending is heart rending.
Titanic Quotes
There are no approved quotes yet for this movie.